By Team iCEV on November 8, 2018 at 9:18 AM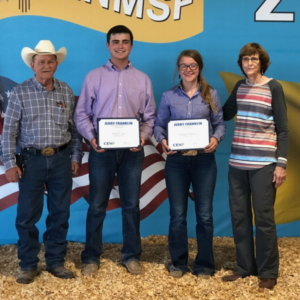 Together with the Franklin family, CEV Multimedia awarded two outstanding New Mexico students with the Jerry Franklin "Pursuit of Excellence" Scholarship. In memory of the long-time New Mexico agricultural science instructor and former CEV employee, recipients are chosen by Gordon W. Davis, founder, and chairman of CEV Multimedia, and Eddie Puckett, retired agricultural science instructor and current CTE Curriculum Consultant for CEV Multimedia.

This year, the proud recipients of the scholarship are Cabel L. Cox of Corona High School and Sydney Johnson of Des Moines High School. These well-rounded individuals are passionate members of their FFA chapters, as well as active members of other extracurricular activities all while prioritizing their personal scholarship.
Congratulations Cabel!
Cabel L. Cox has shown true dedication to the FFA organization and is a phenomenal example of the type of leaders the organization produces. In 2013, Cox formally joined FFA, however, the organization earned a place in his heart many years prior when his brother first joined. Cox has taken on a variety of leadership and advising roles during his FFA tenure and has enjoyed success in the show ring. A few of his achievements include:
Current New Mexico State Vice-President and District 3 President

Member of the State Officer Nominating Committee (2017-2018)

2018 Lincoln County Fair Grand Champion and Reserve Grand Champion Lambs

2017 Lincoln County Fair Grand Champion and Reserve Grand Champion Goats
Taking part in livestock production and raising show goats has taught Cox many life lessons. One of them being, "We only have so much time on earth we need to do our best to help others with their issues and help animals stay alive so that we can be good stewards of the land and keep production going to feed the world," says Cox.
Cox feels the FFA has played a defining role in shaping him into the person he is today. "Without it, I would not have the confidence, the work ethic, the social skills and above all the understanding of life as I have today," says Cox. "I can only hope that we can grow this organization to reach more and more people. FFA is the greatest youth agricultural leadership organization in the world."
Outside of FFA, Cox is an officer of his county 4-H club and the school's student council. Additionally, he has been involved in National Honor Society, captain of Corona High School's Varsity Basketball team, and part of the Varsity Track team.
Congratulations Sydney!
Sydney Johnson is not the traditional FFA student, but she is a prime example of how the FFA can be for everyone. Growing up in her families' "mom and pop" hotel in Clayton, convincing her parents to let her get into agriculture took initiative on Johnson's part. At nine-years-old her passion to be a part of the show industry won her parents over. Today, Johnson has shown the Union County Fair Grand Champion Lamb and has been the Grand Champion Senior Showman for the past three consecutive years.
"I have learned how to win and lose, how to work hard, invest in others and about the value of helping others around me," says Johnson. "I like to credit my success throughout my showing career to the others around me who have spent hours working with myself and my project."
Through the FFA, Johnson has had the opportunity to travel across the United States and take part in a variety of leadership roles. Johnson currently serves as a New Mexico State Vice President and the District 2 President. Johnson's other achievements include:
2017 Grand Champion Lamb at the Eastern New Mexico State Fair

2018 State Champion Livestock Team in both FFA and 4-H

2018 3rd place at State FFA Job Interview Contest

Varsity basketball, track, and cheer for Des Moines High School
"I am so blessed to be a part of an organization that gives me the best mentors, best friends, greatest memories and the best people I am able to surround myself with on a daily basis," says Johnson. "FFA and showing is one of the greatest things I could ever be involved in and I am extremely grateful for the constant support and love I am given through it."
Along with FFA, Johnson has stayed active in the Folsom County 4-H Club. Additionally, Johnson has maintained a 4.0 GPA and is a member of the National Honor Society. Upon graduation, Johnson will be pursuing a career in agriculture.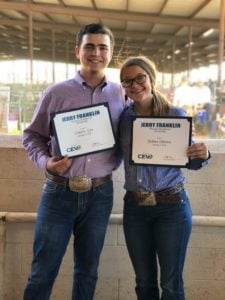 In Honor of Jerry Franklin
The Jerry Franklin "Pursuit of Excellence" Scholarship was established by CEV Multimedia to perpetuate the memory of the former longtime successful agricultural science teacher, basketball coach, FFA advisor, farmer, mentor, and CEV representative. Franklin taught for 27 years at several high schools in New Mexico and remains a highly respected figure among the state's agricultural circle. One of his greatest passions was seeing students excel, as he was a great mentor to young people in the community as well as throughout the state of New Mexico.

Recipients of this award must be a high school senior from New Mexico, an FFA member and must show market lambs and/or goats.