By Team iCEV on October 20, 2020 at 2:07 PM
Each year, iCEV awards an outstanding New Mexico FFA member the Jerry Franklin "Pursuit of Excellence" Scholarship. This scholarship honors the memory of Jerry Franklin, a former New Mexico agricultural teacher and iCEV employee. To be eligible for the scholarship, applicants must be a high school senior, FFA member and show market lambs or goats. This year, iCEV is honored to recognize Kaylin Klein as the 2020 Jerry Franklin "Pursuit of Excellence" Scholarship recipient.
As a senior at Artesia High School, Klein is involved in various clubs and leadership roles. Klein is an active leader, advocate and competitor within the agricultural industry. He contributes his numerous successes and confidence to his early involvement in showing livestock. "I found my place in the show barn," said Klein.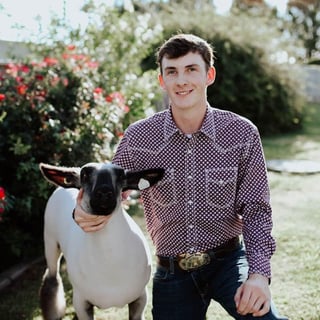 Klein has been showing livestock for the last nine years. He has shown lambs and goats locally, in New Mexico and across the nation. He finds joy and fulfillment spending time in the barn with his friends. While he has had many successes within the show ring, Klein considers the losses and hardships as some of the most memorable lessons. "I learned commitment and how to get back up, even in defeat," said Klein.
Not only is Klein an experienced showman but also a leader within his community. He currently serves as president of his local FFA chapter, and he is the state FFA vice president for New Mexico. Additionally, he is a member of the Artesia Honor Society and a mentor for Big Brothers Big Sisters. He has also been the guest speaker on The Evolve podcast and taught younger students through New Mexico Ag in the Classroom.
In addition to his numerous leadership roles, Klein has been competitive in FFA Leadership Development Events (LDEs) and Career Development Events (CDEs) for the last four years. Klein started earning awards in LDE and CDE events as a freshman. In his first year competing, he was the State Greenhand Prepared Speech Champion and was recognized as the State Star Greenhand for his supervised agricultural experience. Since then, he has been awarded the Artesia FFA Leadership Award and second high individual in the State Wool CDE.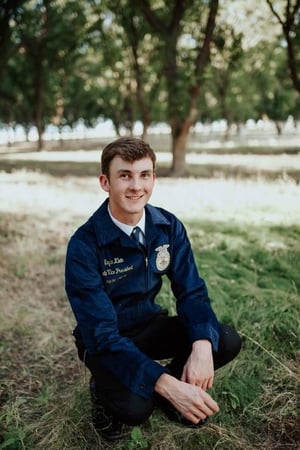 Over the last nine years, the agricultural industry has positively influenced Klein's life. As he graduates high school and transitions into a new season of life, Klein knows his experiences in FFA and showing livestock will have a place in his future.
"As I move to a new phase of my life, I remember the lessons in FFA and in the barn," said Klein. "I know I can face a challenge and succeed, even if I get knocked down a time or two."
iCEV is proud to recognize Kaylin Klein as this year's scholarship recipient in honor of the memory of Jerry Franklin. Throughout his life, Franklin held many titles, including agricultural teacher, FFA advisor, iCEV team member, farmer and friend. Franklin was a respected figure among the New Mexico agricultural industry for his passion and mentorship to countless students, parents and teachers across the state. iCEV is honored to recognize students for their hard work, such as Kaylin Klein. We wish you the best of luck in your future educational and career endeavors, Kaylin.