By Team iCEV on October 18, 2018 at 8:30 AM
As we load up the iCEV trailer for National FFA we wanted to give you and your students tips and tricks to make the most of your 4 days in Indianapolis.
The opportunity to attend National FFA is an honor for those who wear the yellow and blue. Download and pass out these 9 tips to help your students maximize their National FFA experience.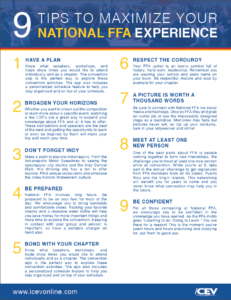 While your there don't forget to visit us at the iCEV booth! There will be prize opportunities and games throughout the entire conference and be sure to sign up for your chance to win an iCEV Carhartt Duffel Bag. Have fun and we will see you there!