By Team iCEV on August 11, 2022 at 4:50 PM
When an iCEV subscriber first looks at what is included in a course hosted on the iCEV platform, they may feel that they have all the tools but not fully understand how to use them. For educators, planning lessons and compiling the appropriate materials can take a lot of time and sometimes feel overwhelming. In pursuit of easing the planning process for teachers, iCEV's pre-made lesson plans include lesson overviews, step-by-step instructions, material lists and anything else teachers may need to teach their students effectively.
In this blog, we will dissect the anatomy of an iCEV lesson plan and discuss how educators can use iCEV's lesson plans more effectively to their advantage.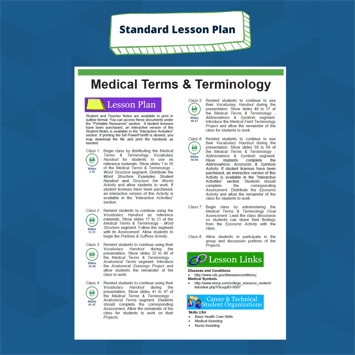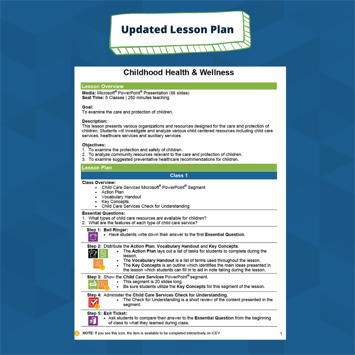 View Standard Lesson Plan Here View Updated Lesson Plan Here
Standard and Updated Lesson Plan Styles
iCEV launched our updated lesson plan style in hopes of easing the lesson planning process for educators and to modernize how our lesson plan information is presented to teachers. On the iCEV platform, both updated and standard lesson plan styles can be seen as our team works to update courses over time. Both the standard and updated lesson plans have up-to-date content, with the only differences being document formatting, easier-to-understand instructions and new activities and projects.
Lesson Overview
When viewing an iCEV lesson plan like the Childhood Health and Wellness lesson plan above, the lesson overview section allows educators to answer some of their immediate questions when preparing for class, such as "what is being taught in this lesson? " and "what materials will I need for the day?". The lesson plan overview section also displays the necessary media for each day of teaching, the lesson's goals and objectives students will be able to execute after each lesson.
Lesson Plan
Found below the lesson overview section educators will find the class overview, which displays what documents will be used each class day, such as vocabulary handouts, action plans and key concepts. The remainder of the lesson plan section includes steps for educators to navigate through each lesson with their students and tips for best delivering content.
Essential Questions
Below the class overview section, educators will find the essential questions for each day of teaching. Essential questions helps students engage with their existing knowledge base and draw new patterns between ideas. Essential questions are to be presented to students at the beginning of a lesson to help them understand what questions they should be able to answer after each lesson. Essential questions can even differ between class periods to create more conversation after instruction and class time has ended.
Bell Ringer
A newer feature of iCEV's updated lesson plan is bell ringers. Teachers use bell ringers to help present a concept that will be discussed in class and to measure students' familiarity with the concept. Bell ringers are an engaging way to start class, capture students' attention and pique their interest for the day's lesson content. Bell ringers can also assess students' understanding of a certain concept discussed in a previous lesson. Sometimes essential questions for a lesson can be presented to students as their bellringer as they are the overarching questions students must be able to answer at the conclusion of a lesson.
Exit Ticket
Much like bell ringers, exit tickets access student understanding but are presented at the end of class. Often times exit tickets can be questions students have to answer in which they compare their initial thoughts they shared for their bell ringer and how their thoughts or ideas changed from the beginning of class and after instruction.
Regardless of whether the course you are teaching uses the standard or updated lesson plan style both have up-to-date content and everything an educator will need to have impactful educational experiences with their students. To learn more about lesson plans or other teacher materials housed on the iCEV platform visit our website to find tutorials and pedagogy resources to make planning easier and to take your student's learning experiences to the next level.
About the Author

After serving as a Texas FFA state officer in 2018, Josh Witherspoon joined the iCEV team as a part-time employee for 3 years before taking on the role of content development specialist in 2022. Witherspoon holds a bachelor's degree in agricultural communications from Texas Tech University, in which his experience and proficiency in writing, marketing and CTE allow him to effectively communicate the successes of CTE educators and students and the value iCEV has to offer.