By Jacelyn Nesmith | Content Development Specialist on April 27, 2021 at 9:15 AM
Each month, we spotlight a teacher who has gone above and beyond to provide students the knowledge and skills they need to be successful through innovative and outstanding teaching methods. iCEV is proud to recognize Rebecca Dever, criminal justice instructor at North Lawrence Career Center, as the April iCEV Teacher of the month.
Continually striving to ensure her classes are hands-on, Dever has designed her classes to be innovative, engaging and directly related to the industry. As a first-year teacher, Dever is still learning the ropes of being a high school educator, but she has made her administrators, students and peers proud over the last year.
Prior to entering the classroom, Dever worked as a probation officer for 10 years, specializing in working with women in recovery for the last five years. She has always enjoyed helping others. "I had the honor of seeing women go from their lowest point to their highest point," said Dever. She is particularly passionate about helping others overcome obstacles to become successful.
Upon leaving the industry, Dever knew she wanted to continue working and helping others. When a position at the North Lawrence Career Center opened, she immediately knew she needed to follow her lifelong goal of becoming a criminal justice instructor. She is finishing her first year as a teacher and has excelled in her new role.
One of the core goals at the North Lawrence Career Center is ensuring that 50 percent of the time students are in the classroom, they are actively engaged with hands-on activities. Dever is a prime example of a teacher who directly integrates industry knowledge and experiences in her courses through hands-on activites. Her background in criminal and court justice allows her to mock real-world situations for her students to learn from in her classes.
Hands-on experiences are the foundation of her courses. Dever designs and incorporates at least one large, real-world example each semester. Being on a trimester schedule, she has executed three large projects within her courses thus far. Ranging from designing prisons to working a crime scene, Dever's students are undoubtedly preparing for their future careers.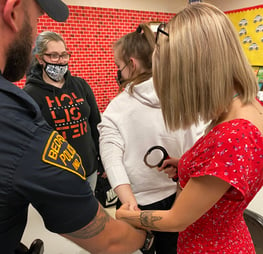 In the short time of being an educator, Dever has formed relationships with others in her community. She has a partnership with the local law enforcement, including city police and K-9, county sheriff deputies and the Indiana State Police, who will host a six-week mini police academy for her students. Law enforcement officers are going to come into the classroom to teach students the hands-on components of law enforcement. Students will learn how to search others, Miranda rights, arrests and other daily activities of a law enforcement officer.
Dever's courses work in conjunction with the health science classes. Together, the two departments staged a crime scene for the students to work through. The law and public safety students collected evidence, secured the crime scene and properly investigated the crime scene. While the health science students served as EMTs.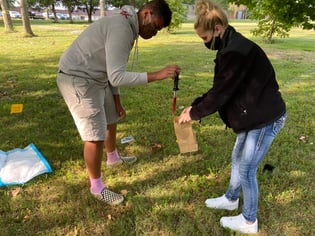 Additionally, the two courses swapped classrooms for a week. Those enrolled in the law and public safety courses spent a week becoming CPR certified by the health science teacher. The health science students spent a week in the law and public safety courses learning about evidence, scenarios of a crime scene and fingerprinting.


"We do hands-on activities 50 percent of the time," said Dever. "That's what a career center is all about. It is my job to make sure students have skills when they graduate, and I do that through hands-on activities."
Between cross-curricula assignments, hands-on experiences and leading her students, Dever is preparing students to be successful in the workforce one day at a time. She demonstrates the mission, goals and qualities of an innovative teacher.
Dever relies on iCEV to help her deliver the content knowledge to her students and supplements the iCEV curriculum with hands-on components. Not having a background in education, Dever says she appreciates iCEV for providing lesson plans, PowerPoints and content to be a supplemental resource in her classes. She has been using iCEV since she began teaching and serves as a resource for her peers when they have questions about the online platform.
To learn more about Dever's assignments, the structure of her classes and experiences as a first-year teacher, join her presentation at CTE Inspired, iCEV's virtual conference. During the virtual conference, she will be leading a session about the design of her classes and her assignments. Directly after her session, she will be available to answer your questions in real-time.
At iCEV, we want to recognize teachers, like Rebecca Dever, who work tirelessly to set their students up for educational and career success. If you know a teacher who deserves to be recognized, nominate them for iCEV Teacher of the Month by contacting Jacelyn Nesmith at jacelyn.nesmith@cevmultimedia.com.