By Team iCEV on January 27, 2021 at 11:06 AM
To provide teachers a means for students to demonstrate academic growth, iCEV has teamed up with bulb Digital Portfolios for the spring semester. This semester, all iCEV users (including students, teachers and administrators) have free access to bulb and iCEV's brand-new project templates.
bulb is an easy-to-use tool empowering teachers to engage and assess students in-person and remotely. Students can take notes, complete assignments and demonstrate their academic growth on bulb's digital platform. To learn more about bulb, preview a list of answers to frequently asked questions below or view our tips for using bulb and iCEV.
Why should I use bulb and iCEV?
Portfolios are a researched-based and highly impactful instructional practices. They are also important for students to be competitive in the workforce. George Couros, education author and thought leader, wrote the article 3 things all students should have before they leave high school. He suggested students having the following three things.
1. A professional social network
2. A portfolio
3. An about me page
Below are five reasons we believe you should use bulb with your iCEV account.
1. Many courses already require a student to keep a portfolio. Students need a portfolio that is easy to use, looks professional, can be personalized, can support all different types of media artifacts, can be used from year-to-year and class-to-class, and goes with them when they leave school.
2. Students can authentically demonstrate technical knowledge with artifacts of learning like images, videos, audio and photos of hand-crafted artifacts.

3. Students can add interests and hobbies to academic work to make their personal story come to life.
4. Students can reflect on learning and also see their growth during the class and from year-to-year.
5. Portfolios help drive engagement and mastery for remote, hybrid and in-person learning.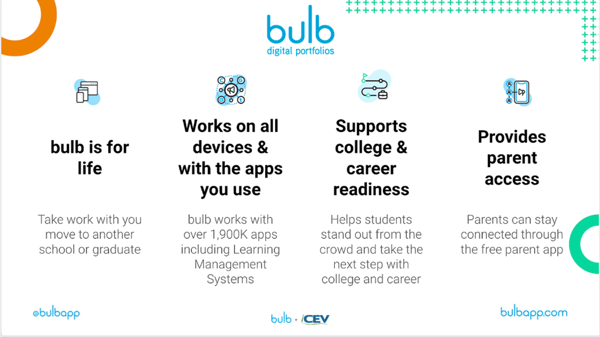 Perks of using iCEV and bulb
How do I sign up and participate?
1. Complete the GET EXCLUSIVE ACCESS to bulb form.
2. You will receive an email from bulb with a unique bulb sign-up URL associated with your school district. (It will look something like this https://www.bulbapp.com/b/sign-up?orgToken=XXX111)
3. Use the unique sign-up URL to create your bulb account.
4. Use this same unique sign-up URL for your students to create their own bulb accounts.
Is my bulb account associated with iCEV?
You will need to create a separate bulb account from your iCEV account. However, you can choose to create your bulb account using the same email address you use for iCEV.
I tried signing up for bulb, but it is asking me for a promo code.
If it asks for a promo code, you are on bulb's free sign-up page. If you create an account here, you will be on bulb's free platform and not taking advantage of bulb's full features. Look in your email for the unique sign-up URL associated with your district.
The unique sign-up form will NOT ask for a promo code. If you did not receive the unique sign-up URL or you cannot find it, email help@bulbapp.com and bulb will email it to you.
What are the privacy settings associated with bulb?
bulb is FERPA & COPPA compliant. It also provides additional privacy settings which can be controlled by the School Administration through the bulb Dashboard.
bulb's privacy settings are associated with publishing. Publishing is when you give permission to a particular audience to see your work (page/collection). All public publishing for students is defaulted to OFF.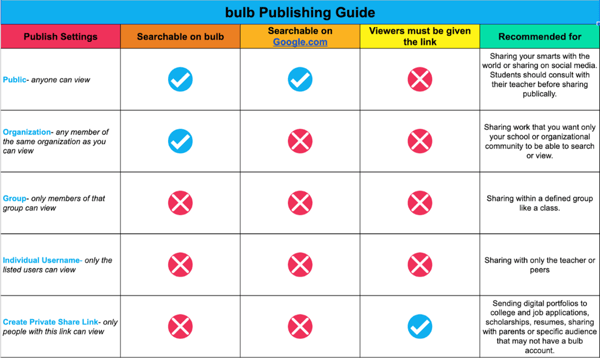 bulb's Privacy Guide
How do I upload bulb templates or assignments into my LMS? What LMS platforms does bulb integrate with?
bulb works great with all major learning management systems (LMS) including Google Classroom, Microsoft Teams, Canvas, Schoology, ItsLearning, Blackboard, etc.
Within their LMS, teachers will copy the template URL (page or collection) and paste it into the assignment instructions and then assign the template to students.
How can teachers grade and provide feedback on a bulb portfolio?
Students will publish their bulb pages with a private share link and paste that link into the submission section of the assignment inside your learning management system. Teachers can then view each student's page and use the bulb commenting feature to leave direct feedback. For more specifics on how to assign templates and how students turn in work, visit the how bulb works page in your Let's Get Started resource.
If you do not use a learning management system. You can use bulb's group feature to create a class roster and view your student's work. Visit this tutorial page for more information about groups.

Example of a grading rubric for bulb assignments
What happens to student's portfolio after the class or upon graduating?
Students get to keep their bulb portfolio for life. When setting up their account, students can add a personal email address into the settings of their account. They will now have 2 emails associated with their account: a school and personal email. If the student leaves the district or graduates, the student's bulb account will be disassociated from the district and converted to our free platform.
Students keep access to their portfolio through the personal email address and can continue to add work and edit previous work. They never lose any work they created. The free platform has a limit on 10 published pages and 2 GB of storage. If the student has exceeded this limit before leaving the school their portfolio remains the same, they maintain access, but to create new content and they either will have to unpublish some pages (pages remain but just cannot be shared) or upgrade for $30 a year for unlimited published pages and storage.
What does the partnership include after the spring semester?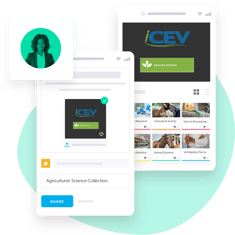 bulb and iCEV will continue to remain partners after the spring. The FREE access to bulb will end at the conclusion of the school year (June 2021). This spring semester allows teachers to try bulb along with the iCEV templates and decide if this is a good fit for the next school year. Districts, schools, departments and/or classes can choose to purchase bulb for students in Fall of 2021 (approx. cost per student is $2-3 annually) to use alongside the iCEV curriculum. iCEV will continue to provide the bulb iCEV project templates for use next school year.
To learn more about bulb and our partnership, check out the virtual session from our professional development seminar. If you have any questions or would like to learn more about bulb digital portfolios, please get in touch with bulb by emailing help@bulbapp.com.