By Jacelyn Nesmith | Content Development Specialist on April 6, 2021 at 8:55 AM
To provide students a digital space to demonstrate their academic and personal growth, iCEV has teamed up with bulb Digital Portfolios for the spring semester. This semester, all iCEV users (including students, teachers and administrators) have free access to bulb and iCEV's brand-new project templates.
Over the last few months, teachers have been creative in how they are using the bulb and iCEV offer to engage students. To provide teachers ideas for using bulb, we have highlighted additional uses for bulb Digital Portfolios below.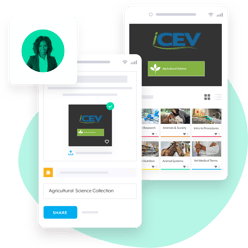 Digital Resume
Students and educators can use the brand new bulb digital resume feature. Users can build a traditional resume but then with a click of a button integrate their portfolio of work experience, projects and passions directly into this online resume, showing clear proof of their capabilities and accomplishments giving you an edge and making you stand out. The bulb resume can easily be shared on a job application or college admissions system by using the share url. Explore this student's bulb resume.
Virtual Career Fairs
Host a virtual career fair using bulb's collections, pages and templates. Each company would have its own page and can include text, video or pictures to describe their company. Students can access the virtual career fair 24/7 to explore job openings, company culture and to learn more about potential careers. Additionally, if a student finds a job they are interested in, then they can share their portfolio with employers through bulb. Check out this great example from Beaumont ISD.
End of Course Assignments
Many CTE courses include a portfolio as an end of the course assignment. Using bulb, students can submit their portfolio to showcase their course work. Since the portfolio is digital rather than printable, students can continue updating and adding to their portfolio each semester.
College and Career Exploration
While students are researching colleges and careers, they can keep their notes, key takeaways and resources all in one place in their portfolio. Students can collect materials from colleges or careers they are attracted to by uploading videos, pictures and text.
CTSO Experience
CTSO advisors, such as FCCLA, FFA and DECA, can encourage CTSO participation with bulb. Students can use bulb to document their experiences and projects, practice for competitions, apply for leadership positions and to encourage other members to join. Chapters can use bulb as a landing page to share information to members and document activities from year to year.
Classroom Assignments
iCEV has created over 200 bulb templates, which are directly associated with iCEV lessons and projects. Teachers can assign the iCEV template directly from iCEV or can search for templates on in the bulb resource library. Students will complete the template in bulb and can publish the page for their teachers to view. Additionally, teachers can provide feedback on students work in bulb. Inside iCEV, teachers will also find a Getting Started with bulb lesson that they can use to introduce their students to the benefits of portfolios and how to use bulb.
Work Experience
Students will show their skills using videos rather than just telling employers they are able to perform certain skills within their portfolio. Additionally, internships and part-time jobs can be showcased on a student's portfolio using pictures, videos and student reflections.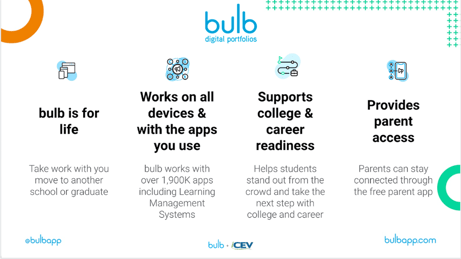 iCEV has enjoyed seeing teachers get creative with their bulb accounts. To help you brainstorm ways to use bulb, we have included example portfolios for four different CTE subject areas below.
- Agricultural Science Portfolio Example
- Business, Marketing, Finance, IT & Media Portfolio Example
- Family & Consumer Science Portfolio Example
- Health Science Portfolio Example
It is not too late to receive access to bulb Digital Portfolios. iCEV is offering free access to all iCEV users through the end of the semester. Once you sign up, bulb with reach out and help you set up your bulb account to ensure you are using bulb effectively.
If you have enjoyed using bulb in your courses, share the online tool with your colleagues. If they are not iCEV users, they can still receive access to bulb.
If you, your students or your school district have been using bulb in creative ways, share them with us. Portfolios could be featured on our social media channels or upcoming blogs. To showcase your portfolios, please share them with Jacelyn Nesmith at jacelyn.nesmith@cevmultimedia.com.