By Team iCEV on December 19, 2018 at 9:15 AM
Annually, CEV Multimedia honors outstanding team members. Recognitions include the Employee of the Year Award, the Aubrey N. Davis Family Memorial Award and the Eddie Puckett Salesperson of the Year Award. We are proud to honor this year's recipients!
Employee of the Year-Whitney Orth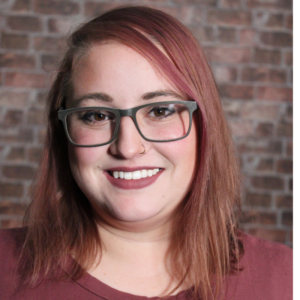 Each year, in-office employees at CEV Multimedia vote to select the employee which contributed the most to the year's successes. This year the recipient is Brand Manager, Whitney Orth. Orth has been a part of the CEV team for nearly four years. She earned her bachelor's degree in Professional Writing from Michigan State University and her master's in English from Colorado State University.
Orth enjoys working in Brand Management because of her love for learning and writing. "I love that we create materials that allow students to see what real life careers look like!" says Orth. "I wish someone would have told me about how many cool jobs exist! Every time I interview a subject matter expert, I am inspired to change careers. I just love talking to people about what they're passionate about, and it's not something I would have thought I would have liked as much about this job!"
Her ability to combine effective researching and writing techniques with creativity makes Orth an invaluable asset to CEV. Orth's greatest accomplishment at CEV Multimedia is leading the creation of CEV's Forensic Science course.
When asked about receiving the award Orth says, "The fact that my coworkers voted for me just makes me feel so sappy inside, but honestly, the only reason I have done cool things is because everyone I work with is so talented and patient," says Orth. "I have so much fun with them, and I am constantly so amazed by all of the incredible work my teammates do. I've enjoyed getting to know each one of them and learning how to work with their individual strengths, so we can make creative and innovative lessons together."
Looking to the future, Orth is really excited about the soon to be released Digital Media course. "There are some really incredible lessons in it because we had so many amazing and cool collaborators on camera," says Orth. "I've been blown away by the editing and animation that have gone into them."
Away from the office, you'll find Orth listening to podcasts, reading, playing trivia and training her dog to do "useless tricks."
Aubrey N. Davis Family Memorial Award-Loyd Nations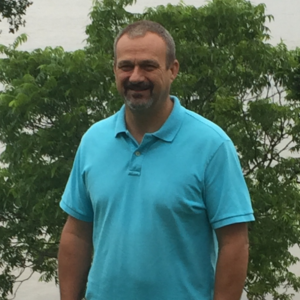 The Aubrey N. Davis Family Memorial Award award is named in honor of Gordon W. Davis's late father, Aubrey N. Davis, and chosen by the Davis Family each year. Award recipients must be employed at CEV Multimedia for over five years and are chosen by their embodiment of the 10 key principles by which Aubrey N. Davis lived his life: agriculture, fun, multitasking, teamwork, vision, family, leadership, perseverance, trust, and a strong work ethic.
Loyd Nations is the 2018 recipient of the Aubrey N. Davis Family Memorial Award. Before joining CEV Multimedia over five years ago, Nations was an Agriculture Teacher for more than 30 years and served on the Vocational Agriculture Teachers Association of Texas (VATAT) board for six years.
Nations enjoys working with CTE educators because, "CTE teachers are some of the most down to earth, level-headed, and grounded folks we have in this country," he says. "They give of themselves and their time to make a difference in the lives of their students and community."
Nations works hard to treat CEV's customers as he would want to be treated and strives to do his best every day.
"The Aubrey N. Davis Family Memorial Award is one the highest honors I have received in my lifetime," says Nations. "The 10 bases for the award are characteristics that we all should strive to exhibit. I am honored and humbled at the same time."
Nations says his greatest accomplishment is his family; wife Cathy and two sons Bryce and Cash.
Nations hopes to work for CEV for as long as he can. "I hope to grow my clientele and provide my current clients the service required to keep them satisfied," says Nations. "I hope to see iCEV become the dominant CTE curriculum provider in the nation."
Eddie Puckett Salesperson of the Year- Bobby Ledbetter
This award is named in honor of CEV's very own Eddie Puckett. In awarding this honor, the salesperson's total yearly sales, team management, overall teamwork with others, territory performance, professional development and their contributions to company growth are taken into account.
Bobby Ledbetter has been a part of CEV for 14 years and is this year's recipient of the Eddie Puckett Salesperson of the Year Award. Ledbetter received his bachelor's degree from Southwest Texas State University and went on to earn his master's in Agriculture Education from Texas A&M University. Ledbetter taught agriculture in Edinburg, Texas for over 30 years before retiring and joining the CEV team.
"I never imagined beginning a second career after teaching school for 31 years as an agriculture teacher and FFA advisor," says Ledbetter. "I feel very fortunate that I have been able to work with the people of CEV Multimedia. It is very fulfilling to continue to be involved in education through CEV Multimedia and being a part of our teachers' and students' successes by providing them with resources to help them accomplish their goals."
Ledbetter credits his success to his early years working 84-hour work weeks at the local cotton gin and grain elevator.
"The experiences I had working with people at harvest time were lifelong; when the time is of highest importance, people have to work together to get the job done right and in a timely manner," says Ledbetter. "I always wanted to go the extra mile to be able to measure up to the older people on the job. I've kept that mindset throughout my entire career, whether that be teaching or at CEV. I refuse to play the game and be just average!
Ledbetter feels truly honored to receive this award, "especially to be recognized by a company of this caliber as being one of their best," says Ledbetter. "I am honored that this award is named after Eddie Puckett, who I know personally and is one of my best friends. He is as good of a man as I've ever met and known in my life."
In his free time, he spends time with his 3 children and wife Anita while running his small Simbrah cattle operation.
Congratulations
CEV is full of talented and passionate employees who seek to truly better CTE. We thank them for their hard work and look forward to their future success at CEV.