By Team iCEV on May 13, 2021 at 2:17 PM
CTE Inspired 2021 is quickly approaching and will feature engaging sessions, inspiring messages from three of the world's most dynamic speakers and opportunities to network and advance your career. Join iCEV and CTE professionals from around the world July 27th– 29thand August 9th- 11thfor CTE Inspired.
By participating in the event features, attendees will have a chance to win their share of over $75,000 in prizes. Prize will include conference prize packs, money for CTE programs, signed books from the keynote speakers and more. Don't miss the opportunity win big while advancing your professional career.
Prizes can be won before and after the event. Now until May 31st, there are multiple ways you can win a conference prize package. To help you become one of our top winners, we have included a few ways to earn a prize back below.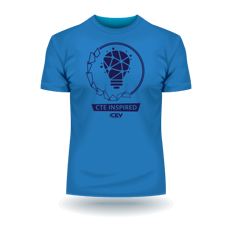 How to Win a Conference Pack
The CTE Inspired conference pack includes a t-shirt, classroom resources and iCEV swag items. One-way attendees can win a conference pack before the conference is by inviting others to join their conference experience. Upon registering, attendees will receive a confirmation email with a referral code to share within their network. Once five people have registered using your referral code, you automatically secure a prize.
Additionally, win a conference pack by engaging with iCEV on social media and participating in social media giveaways. In the next few months, iCEV will be doing multiple social media giveaways on all of our channels. Make sure to follow us @icevonline to stay up-to-date with giveaways, big announcements and to be a part of our community.
Win a prize pack by sharing your CTE Inspired 2021 experience . On your social media channels, share your experience at last years conference with your friends. Make sure to tag iCEV (@icevonline) and use #CTEInspired to be entered to win. Additionally, keep an eye on the "Here by the Owl" Podcast. They will be doing CTE Inspired giveaways online and through their podcast. Tune in or visit their social media to learn how to earn conference pack.
The more you engage with CTE Inspired, the higher your chances are to win big during the conference. Before and during the conference, there will be endless opportunities or you to engage and participate in conference activities.
Upon winning a conference pack, an iCEV team member will reach out to you via email. We will provide a form for you to complete in order to know where to ship your package. If the form is not completed by the date specified, the pack will be given to the winner next on the list. Conference prizes will be given will supplies last.
CTE Inspired 2021 is just around the corner, make sure to save your spot today. Based on your summer schedule, join iCEV July 27th-29th or August 9th-11th for the most engaging CTE conference of 2021. Registration is now open for CTE Inspired, make sure to save your spot today.
For the most recent updates on social media, make sure to subscribe to our blog. iCEV will be sharing conference tips for winning prizes, our top tips for the conference and more in the next few weeks.