By Team iCEV on June 2, 2021 at 1:58 PM
CTE Inspired 2021 is an event you won't want to miss. Join iCEV and CTE professionals from around the world July 27th- 29th or August 9th-11th to advance your career, portfolio, and professional network. CTE Inspired will feature over 90 engaging sessions, three inspiring keynote speakers and network opportunities.
Last year, over 9,000 CTE professionals from 16 different countries gathered for CTE Inspired. This year, we have added more sessions, prizes and opportunities for teachers to engage. Additionally, iCEV is proud to be hosting three of the world's most dynamic keynote speakers including Angela Duckworth, Temple Grandin and Daymond John.
About Angela Duckworth
Angela Duckworth will be kicking off CTE Inspired by sharing her insights on grit, resiliency and what makes people successful. Psychologists have spent decades searching for the formula to success, but Duckworth found it. She has shared her life's work across the globe and has one of the most viewed TED Talks of all time. She also is the author of, #1 New York Times best-seller, Grit: The Power of Passion and Perseverance.
"Grit is passion and perseverance for very long-term goals. Grit is having stamina. Grit is sticking with your future, day-in, day-out … Grit is living life like it's a marathon, not a sprint."
Duckworth was a seventh-grade math teacher before transitioning into higher education. While teaching, she always wondered what made some students successful when the same strategies did not work for other students. To understand success, Duckworth pursued a PhD in psychology.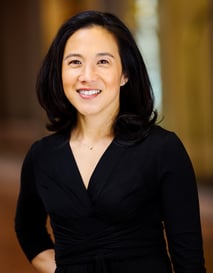 Duckworth completed her undergraduate degree in Advanced Studies Neurobiology at Harvard, she completed an MSc with Distinction in Neuroscience from Oxford University and completed her PhD in Psychology as a National Science Foundation Graduate Fellow at the University of Pennsylvania.
Additionally, Duckworth founded a summer school for underserved children that celebrated its 25th anniversary in 2018 and continues to educate young people today.
Her Work Today
Duckworth is the Rosa Lee and Egbert Chang Professor at the University of Pennsylvania, faculty co-director of the Penn-Wharton Behavior Change for Good Initiative, and faculty co-director of Wharton People Analytics.
Duckworth is the Founder and CEO of Character Lab, a nonprofit whose mission is to advance scientific insights that help children thrive. Character Lab connects researchers with educators to create greater knowledge about the conditions that lead to social, emotional, academic, and physical well-being for young people throughout the country.
Duckworth also has a career in public speaking. Duckworth's landmark research reveals the roles grit, passion and character play in being successful and what any of us can do to cultivate character for ourselves and the people around us. She has advised the World Bank, NBA and NFL teams and Fortune 500 CEOs throughout her career.  This year, iCEV is proud to welcome Angela Duckworth to CTE Inspired.
The educational landscape is constantly changing, meaning educators must adapt to the needs of their students. Duckworth's research is valuable to CTE professionals in that her work focuses on cultivating grit, perseverance and resiliency in students to develop their potential for success in the classroom and in their future careers. Duckworth also offers a unique perspective on CTE as she has worked as a teacher, professor, business consultant and psychologist.
CTE Inspired 2021 is the perfect opportunity for CTE professionals to springboard their portfolio, skillset and network for the upcoming school year. Daymond John, star of Shark Tank, and agricultural icon Temple Grandin will also be joining CTE Inspired. Team iCEV is excited to host CTE Inspired 2021 and we hope to see you there. Learn more about CTE Inspired and register for the conference today.