By Team iCEV on June 2, 2021 at 10:06 AM
CTE Inspired, a virtual conference hosted by iCEV, isn't your average virtual conference. The free six-day event is designed to offer professional development and networking opportunities for CTE professionals around the world.
CTE Inspired will feature 90 sessions led by educational and industry leaders, live Q&A's and roundtable discussions. One of the most unique aspects of CTE Inspired is the elite keynote speakers iCEV will host. Daymond John, Temple Grandin and Angela Duckworth will be leading three dynamic keynote sessions during the virtual conference.
iCEV is excited to host one of the world's leading entrepreneurs, Daymond John, at CTE Inspired. John will be wrapping up the conference by sharing his unique goal setting and achievement strategies. By attending John's session, attendees will become empowered to make positive changes in every aspect of their lives.
The iconic entrepreneur is the CEO and founder of FUBU, a much-celebrated global lifestyle brand, and a pioneer in the fashion industry. Additionally, John is the presidential ambassador of Global Entrepreneurship, star of ABC's Shark Tank and the CEO of the Shark Group.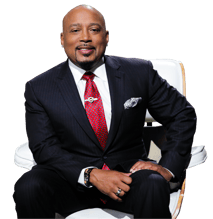 John is the author of five best-selling books including his New York Times best-selling books, The Power of Broke (2016) and Rise and Grind (2018). In March 2020, he released Powershift, Transform Any Situation, Close Any Deal, and Achieve Any Outcome. In his latest book, John shares his tried-and-true process to take control of your destiny and drive the change you want to see.
While John is a phenomenal entrepreneur and author, perhaps he is most known for his role on ABC's hit show Shark Tank. The popular show has millions of weekly viewers and has won five Emmys. In the show, John demonstrates his marketing prowess and shares entrepreneurial insights.
During CTE Inspired, John will be discussing entrepreneurship, tools for success and the desires of the current workforce. He will be concluding CTE Inspired by providing inspiration, motivation and gratitude for all attendees.
iCEV hopes you will join us for CTE Inspired on July 27th-29th or August 9th-11th. We realize your summer schedule is busy, so we have broadened the conference dates to two weeks. Depending on your schedule and availability, personalize your conference experience by attending one or both weeks. The keynote sessions will only be played once each week. Make sure to add the keynotes to your agenda and join us for each dynamic session.
The more you attend and engage in the conference, the higher your chances are at winning your share of $75,000 in prizes. Attendees will have the opportunity to network, download resources and visit virtual booths within the conference platform.