By Team iCEV on June 2, 2021 at 10:01 AM
This summer is an ideal time for CTE professionals to show how iCEV impacts online engagement in today's classrooms. Whether your school district is planning for in- person, online or a blended/hybrid model for the fall semester, iCEV is here to help. Join us at CTE Inspired to discover versatile learning tools, experience professional growth and your chance to win prizes.
On July 27th-29th and August 9th-11th, CTE Inspired will host three of the world's most elite keynote speakers, as well as 90 sessions led by educational and industry leaders. The goal of CTE Inspired is to motivate and encourage teachers while providing opportunities to learn more about innovative tools and methods that can be implemented in their CTE classrooms.
iCEV is honored to include Dr. Temple Grandin among this year's lineup of dynamic keynote speakers. Grandin will present the second day of CTE Inspired. In her speech, Grandin will be sharing her experiences and perspective on visual learning and special populations. As well as strategies to ensure the needs of all students are being met within the CTE classrooms.
Who is Dr. Temple Grandin?
Dr. Grandin is a renowned animal scientist and respected autism activist. In addition to her role as an animal science professor at Colorado State University, Grandin consults on animal behavior and livestock handling facilities, particularly beef cattle and meat processing. Grandin has published over 60 academic journal articles on animal behaviors.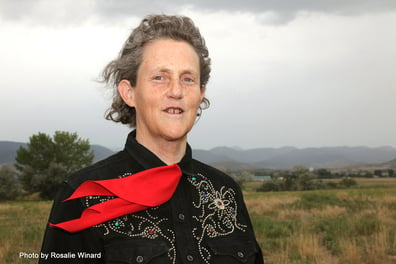 As a person with autism, Grandin serves as a spokesperson for the autism community. She has been an outspoken proponent of autism rights and the neurodiversity movement for decades. Grandin is one of the first individuals on the autism spectrum to document the insights she gained from her personal experience of autism.
Grandin obtained her bachelor's at Franklin Pierce College in Human Psychology and her master's in animal science at Arizona State University. She received her doctorate from the University of Illinois in animal science.
Her:
Grandin was one of the first people to insist animals are sensitive to visual distractions during the handling process. She became recognized for her insight and facility layouts after designing curved chute and race systems. In Grandin's designs, she aims to reduce animals' stress, panic and potential for injury. By utilizing Grandin's systems, the animals are calmer during handling, which leads to better carcass traits and increased meat quality. Today, half of the cattle in the United States are handled in facilities she Grandin designed.
Grandin credits her autism as the main factor of her success. While the two may seem contradictory, as a result of her autism, Grandin is a skilled visual thinker, which allows her to relate to prey animals, such as beef cattle and see and feel what the animals are experiencing.
Grandin is the author of multiple New York Times bestsellers about livestock, livestock handling and autism. Grandin is the subject of the Emmy and Golden Globe-winning film, Temple Grandin. In 2010, she was identified as one of the 100 most influential people in the world by Time Magazine.
What is Temple Grandin bringing to CTE Inspired?
During CTE Inspired, Grandin will share strategies and insights to help CTE professionals meet the needs of special population students. Grandin will review four different styles of thinking, how to determine these types and tips for working with different kinds of minds. She will also discuss the ways her visual thinking style has affected her and the success she has had a result.
Shark Tank's Daymond John and Psychologist Angela Duckworth will be joining Grandin as keynote speakers at CTE Inspired. CTE Inspired 2021 is an event you will not want to miss. Join educators from across the world for an unforgettable experience. Click here to register now.