By Team iCEV on April 22, 2021 at 9:17 AM
iCEV has partnered up with bulb Digital Portfolios for the spring semester. bulb is a place for users to showcase their personal and academic growth and skills. All iCEV users (including students, teachers and administrators) have free access to bulb and their features through the end of the semester.
With hundreds to choose from, templates are one of bulb's most popular features. A template serves as a starting point for an assignment or project. Templates are pre-formatted, and users can copy the template to their portfolio to customize it with text, pictures, audio, files, and videos.
Over the last few months, iCEV has created 200+ bulb templates, which are directly associated with iCEV lessons and projects. The templates are subject area specific. Teachers can assign an iCEV template directly from iCEV or can search for templates on the bulb resource library (search "icev"). In this article, we have highlighted best practices when using bulb templates.
Templates help give students structure to adding great content to their portfolios so they can have a portfolio and resume worthy of sharing out and making them stand out with their specific skills and interests.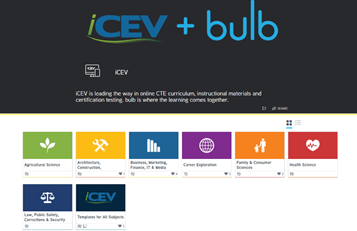 When to Use a Template:
Templates can be used for classroom assignments, end of course assessments, for group projects and more. Knowing when to use a template versus starting a page from scratch is often a question teachers have. Below are a few scenarios of when to use a template.
1. A teacher can assign a bulb template for an assignment or project for students to complete. Teachers can search the library to find a template for their class or easily create their own template (tips for creating great templates). Once teachers decide on a template, they can copy and paste the template link as an assignment into their LMS, post it in a bulb group, or email the link to students. Upon receiving the link, students can complete the assignment in bulb. Within bulb, students will customize the template by answering questions or following prompts on the template. When finished, students can turn in the assignment through the LMS by copying and pasting the private share link.
2. Students can utilize templates when working on group projects. Using templates, each member of the group can duplicate the collection and work on their part of the project. Using the template copy feature, the group can put together all the parts of the project into one collection and submit the group project. As students begin applying for internships or jobs, they can utilize bulb templates for their application. They can create a collection that includes resume, transcripts, awards and honors, community service, work samples, letters of recommendation and a mission statement (view template). Students can then copy and paste the private share link to that specific collection of their portfolio to a job listing to apply for a job or college application. Students can also use the resume builder in addition to these bulb pages.
How to Use a Template:
1. First, locate the template of your choosing. You can find the bulb logo on certain project PDFs inside iCEV, search the iCEV + bulb portfolio, or use keywords or can filter the results by selecting certain topics from the bulb resource center .
2. At the top of the bulb page (or on the banner photo of a collection) click USE TEMPLATE.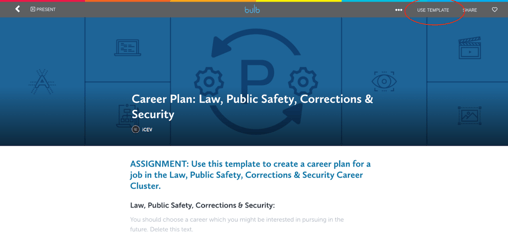 3. Then, select CONTINUE TO PROFILE. This will create a copy of the template for you to edit and use in your portfolio.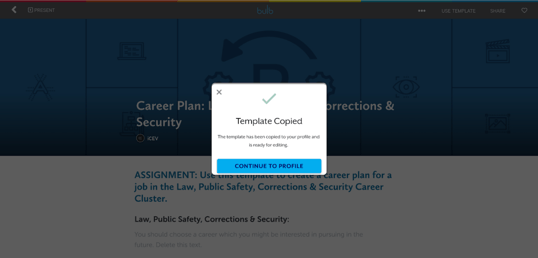 4. You will then be navigated back to your personal profile and will find your copy of the page or collection ready to be edited.
Below we have highlighted example completed templates from CTE students.
It is not too late to receive access to these templates. iCEV is offering free access to all iCEV users through the end of the semester. Upon signing up, bulb will reach out and help you and your students easily set up accounts to ensure you are using bulb in the best way possible. And there is more. Once students create their bulb accounts, they get to keep them for free even after graduation or moving schools.
If you have been using bulb + iCEV templates in a creative way, share your portfolios with our team. Your portfolio could be featured on any of our social media channels or upcoming blogs. To showcase how you are using templates, please share your story to Jacelyn Nesmith at Jacelyn.nesmith@cevmmultimedia.com.