By Jacelyn Nesmith | Content Development Specialist on December 31, 2020 at 8:56 AM
As a company, we seek to create innovative and engaging curriculum to help teachers prepare students for successful careers, the industry or post-secondary education. Each year, we like to take some time and reflect on our achievements over the last 12 months. Throughout 2020, we have added new resources and lesson materials, launched a new certification, hosted our first-ever virtual conference and announced new projects for 2021.
While this year has been like none other, our team has been hard at work to ensure we are providing resources and assistance to Career and Technical Education (CTE) educators around the country. As our team has reflected on our growth this year, we cannot help but be excited for what is to come in 2021.
Curriculum Improvement Strategies
Our mission has always been focused on providing innovative, instructional materials and curriculum to all CTE teachers. This year was a year of adding features and new materials to our online platform. In 2020, our team added 74 judging classes, eight hybrid learning lessons, 12 PowerPoint® lessons and 3,549 slides to iCEV. Additionally, our video production team planned, shot and edited 1,295 minutes of video for our online platform.
Industry Certifications
In November, The Home Builders Association of Alabama Residential Construction (HBAA) Skills Certification launched on iCEV's testing platform. The HBAA certification is designed to verify an individual has the competencies needed to step onto a job site. Individuals who earn this certification will be more qualified and prepared to enter high-demand roles within the construction industry.
LMS Integrations
iCEV now integrates with multiple Learning Management Systems (LMS) and Single Sign On (SSO) platforms. iCEV integrates with Google Classroom, Schoology, Canvas, Blackboard, Moodle and more. Teachers can now import the entire iCEV library into their LMS or SSO platform and pass grades back and forth between the two platforms.
New Resources
Over the last year, our team has been busy building new resources, guides and series for CTE teachers. We have developed content to provide support and tips for teachers through 43 blogs, multiple whitepapers, case studies and spotlights. To help teachers adjust between different learning environments, our team developed a Distance Learning Guide and a Distance Learning video series.
CTE Inspired
In August, we hosted our first-ever virtual conference, CTE Inspired. Over 9,700 participants gathered from every state in the U.S., the Virgin Islands, Bahamas, Philippines and England to sharpen their skills and discover new classroom strategies. CTE Inspired highlighted iCEV's features, shared resources and materials with teachers to use in their classrooms.
Looking Forward
In the upcoming year, we will continue making advancements and adding new features with CTE teachers in mind. In 2021, we have exciting improvements planned for the online platform. A new safety video, a vocabulary grading feature and improvements to the custom assessment generator are a few examples of curriculum updates coming soon. Adjustments to Microsoft Access, Publisher and Outlook will also be coming soon.
bulb Partnership
iCEV has teamed up with bulb Digital Portfolios to provide all iCEV users access to bulb and our pre-made project templates for the Spring 2021 semester. Through bulb, students will have a digital means to showcase their CTE knowledge and skills. Using videos, audio and images, students can showcase their academic and professional growth. iCEV users can receive exclusive access to bulb and learn more by visiting their website.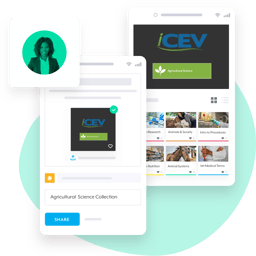 Professional Development
On January 4th and 5th, we will be hosting a virtual professional development seminar. We encourage all CTE educators to attend this free professional development event. Whether teachers are brand new to iCEV or already super users, this event is packed with valuable implementation strategies, tools and resources to help teachers transition through changing educational landscapes. To learn more about the sessions being offered or to register for the seminar, please visit our website.
Later in the year, iCEV will be hosting another virtual conference, CTE Inspired. This conference will be packed with sessions focused on using iCEV, Industry Certifications, Distance Learning and much more. To receive the most up to date information about CTE Inspired, make sure to subscribe to our newsletter.
In addition to our two virtual conferences, our team will continue offering professional development to CTE educators. At any point in the year, teachers can schedule a one-on-one training with our team members. To find a local CEV team member and schedule a meeting, teachers can visit our website.
Thank you for being a part of our success this year, we cannot wait to see what 2021 has in store! We have begun planning some exciting features, updates and resources for next year. Keep an eye on our blog as we will be sharing some of our New Year Resolutions.