By Whitney Welch | iCEV Brand Manager on November 12, 2020 at 10:18 AM
Some teachers have already started noticing some big changes rolling out from the iCEV Writer's Room. If you have looked at the new Microsoft Office 2019 course or the Certified Nursing Assistant course, you will find a new design for content and some new resources, including what we call Key Concepts.
What are Key Concepts?
We have combined the Student Notes (found in slide presentation lessons) and the Worksheets (found in video lessons) into a single resource. The Key Concepts are based on the Cornell Note Taking Strategy and contains three sections:
• Essential questions: students anticipate the takeaways from the day's lesson
• Main ideas: categorize lesson content into short topics to be easily scannable
• Notes: describe essential lesson content for studying and reviewing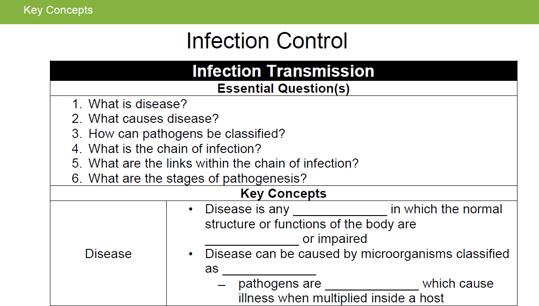 An example of the new Key Concepts
The unique two column design makes studying notes after a lesson much easier by facilitating more reflection during the note-taking process.
What is in the Key Concepts?
Rather than quotes from the videos, like in the iCEV Worksheets in the iCEV Student Notes, Key Concepts fit right in the middle of these two iCEV staples. Key Concepts summarize content presented in the lesson and are formatted specifically for reviewing and studying. The Key Concepts still follow the format of the content presented in the lesson, but may not be word for word as what it appears on screen. Students are still able to fill out the Key Concepts as they watch or read through the lesson, but students are tasked with connecting the content presented in the lesson to the main ideas and essential questions.
Why did iCEV change to Key Concepts?
The Student Notes and Worksheets were created to provide teachers with a way to keep students engaged in the lesson and offer a daily participation grade. However, recently teachers have asked us to increase the rigor found in materials such as these. Therefore, we designed a solution that would improve upon the materials our teachers love, while adding more pedagogical value in the classroom.
We developed Key Concepts to help students practice effective note-taking during a lesson. Studies have shown students take better notes when they are explicitly taught note-taking strategies and styles. The Key Concepts are designed to teach and reinforce Cornell-style note-taking skills they can use outside of their CTE classrooms.
Scaffolded notes, like those supplied by the Key Concepts, are associated with improved student performance for students of all ages. Key Concepts help students identify and understand the main ideas and concepts presented in the lesson. They also create good reference sheets to return to for end-of-course exams or even once the class is over.
Most importantly, the Key Concepts increase the rigor of our note-taking materials. Students following along with the content helps them to get the most out of iCEV lessons. Rather than simply jotting down a word here or there during a lesson, the Key Concepts require that students are actively following along with the content and may have to think critically about how they fill out their Key Concepts sheet.
How do you use Key Concepts?
Many teachers use Student Notes and Worksheets as daily participation grades. Key Concepts can take the place of either of these graded activities. Teachers with student licenses will be able to have students complete Key Concepts as interactive activities as well.
To increase the effectiveness of Key Concepts for note-taking and review materials, encourage students to add in their own notes in the margins, to draw pictures or diagrams in the notes, and to summarize the answers to the day's essential questions.
Where will I find Key Concepts?
Key Concepts will be a part of all new iCEV content, so you will start to see them more in the near future. Any tried-and-true iCEV lesson you have used previously will continue to have the Student Notes and Worksheets.
If you are excited about the Key Concepts idea and want to utilize them for your current iCEV lessons, you can download the blank Key Concepts graphic organizer. This blank version is also a great option for students who want to or are able to have less scaffolding while taking notes or for using with content outside of the iCEV platform.
If you have any questions about the Key Concepts or want to provide us with some examples of how you are using them in your classroom, send the iCEV Writer's Room an email at brandmanagement@cevmultimedia.com!
Look out for more information about updates we have made to the lesson plans and supplemental resources coming soon!