By Team iCEV on January 18, 2022 at 8:00 AM
Each year, iCEV awards an outstanding New Mexico FFA member the Jerry Franklin "Pursuit of Excellence" Scholarship. This scholarship honors the memory of Jerry Franklin, a former New Mexico agricultural teacher and iCEV employee. To be eligible for the scholarship, applicants must be a high school senior, FFA member and show market lambs or goats. iCEV is honored to recognize Madeline Clark as the 2021 Jerry Franklin "Pursuit of Excellence" Scholarship recipient.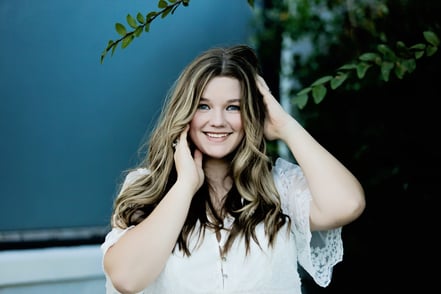 As a senior at Carlsbad High School, Clark is involved in various clubs and leadership roles. Clark is an active leader, advocate and competitor within the agricultural industry. She contributes her successes and lifelong memories to her early involvement in showing livestock.
"While the physical items [ribbons] represent my success, at the end of it all, it's the lessons I have learned, bonds I have built and the mindset I walk away with that will stick with me forever," said Clark.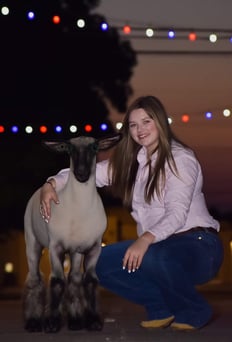 Clark has been showing livestock for the last nine years. She has shown lambs, goats, pigs and steers locally, in New Mexico and across the nation. She finds joy and fulfillment spending time in the barn with her friends. While she has had many successes within the show ring, Clark considers the losses and hardships as some of the most memorable lessons. Clark strives to live her life by her favorite quote, "Success is not final, failure is not fatal; it is the courage to continue that counts."
Not only is Clark an experienced showman, but also a leader within her community. For the last three years, she has served as president of her local FFA chapter and is currently the District V and state FFA vice president for New Mexico. She is also a member of the Eddy County 4-H Chapter, Carlsbad High School Spanish Club and the Carlsbad High School Interact Club. Additionally, she has received the Star Chapter Farmer and Student Proficiency Awards.
In addition to her numerous leadership roles, Clark has been competitive in FFA Leadership Development Events (LDEs) and Career Development Events (CDEs) for the last four years. Clark started earning awards in LDE and CDE events as a freshman beginning with the Greenhand Creed competition. In her second year competing, she and her team placed second at the New Mexico State FFA Greenhand Quiz competition. Since then, she has competed and placed in the Parliamentary Procedure, Wool Judging and Forestry Judging competitions.
Over the last nine years, the agricultural industry has positively influenced Clark's life. As she graduates high school and transitions into a new season of life, Clark knows her experiences in FFA and showing livestock will have a place in her future.
"While I continue on to the next chapter of my life, I will always remember the lessons I have learned, the people I have met and the love I have received in my years in the FFA and stock show industry," said Clark.
iCEV is proud to recognize Madeline Clark as this year's scholarship recipient in honor of the memory of Jerry Franklin. Throughout his life, Franklin held many titles, including agricultural teacher, FFA advisor, iCEV team member, farmer and friend. Franklin was a respected figure among the New Mexico agricultural industry for his passion and mentorship to countless students, parents and teachers across the state. iCEV is honored to recognize students for their hard work, such as Madeline Clark. We wish you the best of luck in your future educational and career endeavors, Madeline.