By Team iCEV on September 9, 2021 at 12:00 PM
FCCLA strives to prepare students for careers by developing skills in character development, creative and critical thinking, interpersonal communication and career preparation. The Career and Technical Education (CTE) affiliate, FCCLA, has over 155,000 members in the United States, as well as the Virgin Islands and Puerto Rico. Each year, FCCLA students participate in career development contests, known as Students Taking Action with Recognition (STAR).
This year, iCEV awarded four scholarships to division winners of the FCCLA Career Investigation and Job Interview events. These contests are designed to allow students to develop the necessary skills for lifelong careers. Each of the following recipients advanced to the National FCCLA competition.
Career Investigation is an individual event where participants select a career they may be interested in pursuing after high school. Students perform extensive research and job shadow professionals within this career.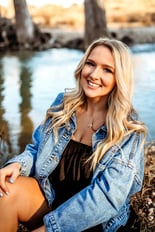 Additionally, students outline educational goals and steps to achieve their goals and must present a portfolio and oral presentation.
Harper McCracken, Comfort High School
Harper McCracken was awarded first place at the state Career Investigation competition. Inspired by her culinary arts teacher to join FCCLA, McCracken began developing her communications and leadership skills by getting involved in competitions and becoming an officer in her chapter. "FCCLA has allowed me to not only give back to my community but also surround myself with like-minded people who share my interests," said McCracken.

"I am so incredibly proud of Harper for the work and dedication she put forth for this project," said Lori Hohmann FCCLA Advisor at Comfort High School. "Harper is an outstanding person, inside and outside of the classroom. She is a great role model and will be very successful in life,"
McCracken is proud of her time spent in FCCLA and is excited to continue sharpening her skills with her future endeavors. Upon graduating high school, McCracken will be attending Texas A&M studying business within the Business Honors Program.
Caraline Dudley, Centerville High School
Caraline Dudley won first place at the state FCCLA Career Investigation contest. Drawn to FCCLA by the success of her school's chapter, Dudley joined to be a part of the legacy. After winning first place overall in the Southern Region National Job Interview contest, Dudley decided to compete in the FCCLA STAR event, Career Investigation. "The event provided me an opportunity to dig deeper into my dream job and pushed me to develop a concrete plan with goals on how I will achieve this dream," said Dudley.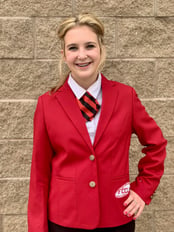 "When she enrolled in my class, from the first day she was eager to become involved in the curriculum and projects," said Kristi Wakefield FCCLA Advisor at Centerville High School She continually strives to achieve at a high level of excellence and is always looking for ways to improve herself through all of her involvements."
Dudley is grateful for the opportunities, memories and skills she attained during her time in FCCLA stating, "Because of this organization, I am equipped for my future and ready to take on any challenge that comes my way!" After high school, Dudley plans to pursue a degree in animal science with a meat science emphasis in hopes of becoming a meat science professor.
Ayush Patel, Dublin High School
In this year's Job Interview event, Ayush Patel received first place at the state competition. Following in his sister's footsteps, Patel joined FCCLA to develop his skill set and prepare for his future career. As a new competitor in the Job Interview contest, Patel excelled in the competition and walked away with applicable experience to pursue his career with.
"I was proud and excited for him! He has dedicated a substantial amount of time into being successful and to see that he was rewarded for the hard work and dedication was great," said Ryan Lewis, Dublin High School's FCCLA Advisor.
Patel believes FCCLA has boosted his confidence and encourages him to strive for excellence in all aspects of his education. "This organization is truly amazing, and I am very glad that I decided to be a part of it," said Patel.
At iCEV, we want to celebrate and recognize students within CTE for their accomplishments and the value they bring to the workforce. We are honored to sponsor scholarship winners, such as the four FCCLA division winners this year. We wish each of them good luck in their future educational and career endeavors.