By Team iCEV on July 1, 2020 at 10:00 AM
FCCLA strives to prepare students for careers by developing skills in character development, creative and critical thinking, interpersonal communication and career preparation. The Career and Technical Education affiliate, FCCLA, has over 175,000 members in the United States, as well as the Virgin Islands and Puerto Rico. Each year, FCCLA students participate in career development contests, known as Students Taking Action with Recognition (STAR).
This year, iCEV awarded four scholarships to division winners of the FCCLA Career Investigation and Job Interview events. These contests are designed to allow students to develop skills for their careers after high school.
Career Investigation is an individual event where participants select a career they may be interested in pursuing after high school. Students perform extensive research and job shadow professionals within this career. Additionally, students outline educational goals and a course of action to achieve their goals. In the Career Investigation event, students develop a portfolio and prepare an oral presentation about their chosen career.
Sarah Johnson
In this years Career Investigation event, Sarah Johnson received first place in the Level 2 contest. Following in her sister's footsteps, Johnson joined the FCCLA chapter to obtain leadership experience. Johnson serves as the vice president of community services, where she organizes community service events to promote her FCCLA chapter.
Johnson believes FCCLA connects her with other students and has taught her to be an effective leader. Johnson says, "FCCLA has inspired me to explore careers and has given me confidence to set and achieve goals."
Andrea Maas, FCCLA Advisor at Kirbyville High School, applauded Sarah for her work ethic and dedication to their FCCLA chapter.
"Sarah is a very smart young lady who works hard to be successful in all she does," said Maas. "Sarah makes good grades, is an officer in our local FCCLA chapter, leads worship for her youth group, plays a variety of instruments along with being a member of our KHS drumline."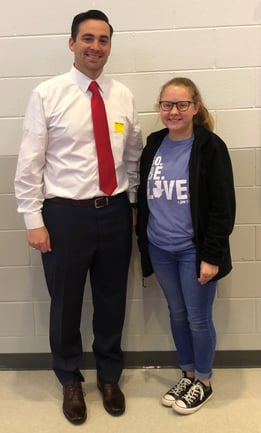 Photo of Sarah Johnson provided by Andrea Maas
Katelyn Reese
Katelyn Reese was awarded first place in the Career Investigation Level 3 contest. Reese's dream career is to be an English teacher in South Korea. With her future in mind, Reese saw this event as an opportunity to shadow teachers and explore her dream career. Reese notes her experiences in Career Investigation and as a member of Chisholm Trail FCCLA has helped her gain skills for her dream career. "FCCLA allows the student to develop leadership skills, confidence in themselves and grow their passions," said Reese.
Lindsey Metz, Chisholm FCCLA Advisor, watched Reese be successful and grow while competing in the Career Investigation contest.
"As a Senior this year she grew in her communication skills and confidence," said Metz. "Being able to work independently and pursue a project that she was passionate about helped her to discover how proficient she is and allowed her to excel."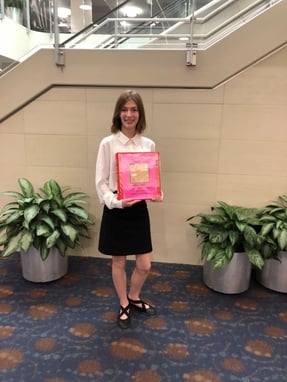 Photo of Katelyn Reese provided by Spencer Dennis
While Career Investigation sheds light on different careers, Job Interview is designed to prepare students for the workforce's interview process. In this individual event, participants develop a portfolio and participate in a mock interview to effectively communicate their skills and knowledge of the job. The Job Interview contest seeks to build self-confidence, leadership, and communication skills to enhance students' ability to speak publicly.
Faith Keasler
Since 8th grade, Faith Keasler has been an active member of FCCLA. Keasler saw the opportunity to acquire new skills for her future career by participating in the Job Interview event. This year, Keasler was awarded first place in the Job Interview Level 2 competition. Keasler enjoys being a member of Guthrie FCCLA and feels as if she is a part of a family. Through FCCLA, she has learned how important it is to try her hardest in everything she does.
"FCCLA is one of the best organizations and opportunities to learn skills that are the most useful for our life outside of school," said Keasler. "In FCCLA, no one is left out because everyone is a part of a great, big family. FCCLA is a way to figure out who you are and what you can do to better not only your life but others as well."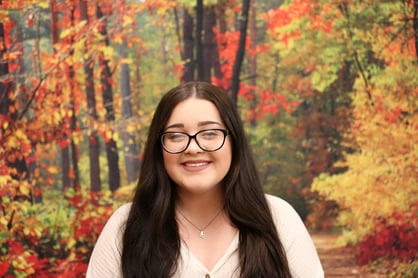 Photo of Faith Keasler provided by Cassie DeFiori Daniel
Nallely Fraire
Nallely Fraire received first place in the Job Interview Level 3 division. During her time at Comfort High School, Fraire served as vice president of FCCLA and Future Health Professionals (HOSA). Fraire was encouraged to join FCCLA and compete in the Job Interview contest by her advisor, who believed Fraire had a natural ability to speak publicly.
Fraire does not regret her decision of joining FCCLA. Being a part of FCCLA has made learning more enjoyable for Fraire, which is why she would encourage others to join FCCLA!
"I learned so much from FCCLA and I hope the organization impacts many more young minds," said Fraire. "I am thankful to my peers and my teacher for making this the best opportunity ever."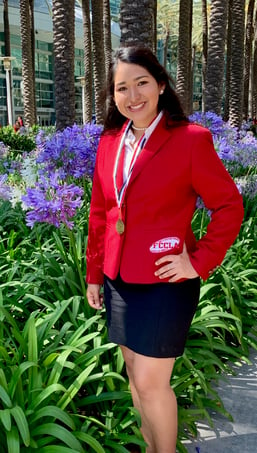 Photo of Nallely Fraire provided by Lori Hohmann
At iCEV, we want to celebrate and recognize students within Career and Technical Education. We are honored to sponsor scholarship winners, such as these four FCCLA division winners. We wish each of them good luck in their future educational and career endeavors.