By Team iCEV on February 7, 2020 at 1:57 PM
Each month, we recognize a teacher who is helping students achieve success by using innovative and outstanding methods. This month, we are excited to recognize Malinda Peine as the February iCEV Teacher of the Month.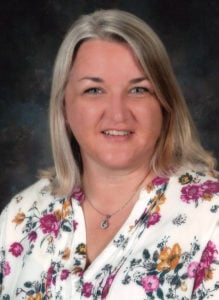 Malinda Peine, family and consumer science (FCS) teacher at Piedra Vista High School in Farmington, NM, has always been passionate about FCS. As a young 4-H member, Peine developed an interest in sewing and fashion and pursued a vocational degree in fashion and design production, along with a general education degree in Idaho. After earning her degrees, Peine served an 18-month mission in New Zealand, and upon her return to the U.S., Peine worked in retail management before completing her teaching degree in Utah and entering education full-time.
Peine began her educational career at Piedra Vista HS in 2002. After five years at Piedra Vista, Peine moved to Washington, and following a six-year stint in the northwest, Peine returned to New Mexico in 2013 as an FCS teacher at Bloomfield High School. Six years later, Peine returned to Piedra Vista, and is now teaching in the same classroom she began her career in 18 years ago.
Today, Peine teaches culinary arts classes at Piedra Vista. Her courses prepare students to enter the Piedra Vista Career and Technology Education (CATE) Center culinary program. The CATE Center was created 15 years ago during Peine's early years at Piedra Vista. The CATE Center culinary program boasts a commercial kitchen and dining room and offers a catering and food service fully staffed by students. Culinary students at the CATE Center are trained to work in all areas of culinary arts and after leaving the center, are prepared to work in a variety of roles in the culinary industry.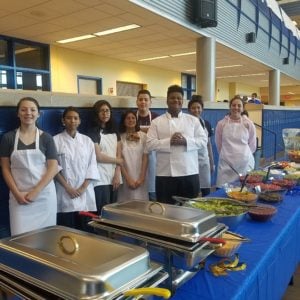 As a feeder program for the CATE Center, Peine's classes focus on providing students with the essential background knowledge and foundational skills they will need to be successful in the culinary program. To ensure students are gaining the necessary knowledge and skills, Peine utilizes iCEV as a central part of her course design. Peine began using iCEV materials while she was teaching at Bloomfield, and has continued to use iCEV at Piedra Vista.
In her classes, Peine integrates the iCEV student licenses, allowing her students to work at their own pace and saving her valuable time preparing lesson materials. Along with utilizing the interactive components on iCEV, Peine also uses the projects and activities associated with each lesson. She particularly relies on the recipes and detailed cooking instructions that are incorporated into the iCEV lessons.
Thanks to her mentorship, passion and dedication, Peine's students are gaining the knowledge and skills needed to find success after high school. Throughout her career, Peine has had numerous students pursue careers in the culinary industry. Many students have used their wealth of knowledge to secure a variety of positions in the food service industry, and several of Peine's former students are working as currently restaurant managers or kitchen managers.
At iCEV, we want to recognize teachers like Malinda Peine who work tirelessly to set their students up for educational and career success. If you know a teacher who deserves to be recognized, nominate them for iCEV Teacher of the Month by contacting Kimberly Cantrell at kimberly.cantrell@cevmultimedia.com or (806) 745-8820.
*All photos courtesy of Malinda Peine