By Kimberly Cantrell | Marketing and Communications Specialist on March 30, 2020 at 2:21 PM
Each month, we recognize a teacher who is helping students achieve success by using innovative and outstanding methods. This month, we are excited to recognize Jennifer Colvin as the March iCEV Teacher of the Month.
Before becoming a teacher at Metro Tech High School in Phoenix, AZ, Colvin owned and operated a flower shop in Phoenix. Inspired by her daughter's experiences in 5th grade, Colvin decided to leave the floral industry and pursue a career in education. Colvin initially planned to work in elementary education; however, fate stepped in when Colvin's wholesaler told her about a teacher at Metro Tech who taught a small business operations and floral design class and wanted to retire. The wholesaler connected the two, and soon, Colvin was earning her teacher's certificate and preparing to leave her flower shop for a career in education.
Four years later, Colvin is the only small business operations and floral design teacher in the country. As part of the business department at Metro Tech, the class focuses on teaching students the necessary skills and concepts needed to be successful as a small business owner. To help the students see these concepts in actions, a flower shop is used as the classes' small business model. In addition to learning business principles, Colvin also teaches her students floral design techniques and methods. Colvin's students apply their knowledge and skills by working in Metro Tech's student-run flower shop after mastering fundamental business and floral design principles.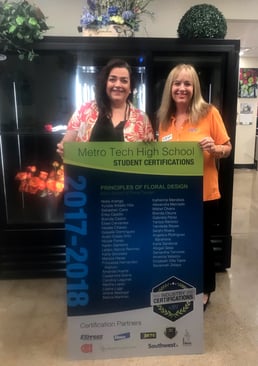 Colvin teaches two sections of small business operations and floral design, each with 25 students. Before students start working in the flower shop, they must first develop an understanding of business practices and customer service, along with mastering various floral design techniques and arrangements. Colvin utilizes the preparatory content from the Benz School of Floral Design Principals of Floral Design Certification as the guide for class lectures, and since 2018, 84 students have earned the certification.
"I knew I needed a certification to make the class more credible. That's where the Principles of Floral Design Certification came in," said Colvin.
After the students have demonstrated their proficiency in business and floral design principles, they begin to work in the flower shop. While Colvin oversees and manages the flower shop, the students conduct all of the shop's daily operations, such as creating arrangements, assisting customers, ordering supplies and developing the store's budget. In addition to flowers, the shop also sells gift items, many of which are created by students in other CTE programs at Metro Tech.
The small business operations and floral design program has blossomed under Colvin's leadership. The floral shop averages $1,000 in sales each week and brought in more than $10,000 on Valentine's Day this year. The shop has become well-known throughout the Phoenix area. Many local news outlets have featured Colvin's program, and the flower shop is the preferred florist of Phoenix's professional baseball team, the Arizona Diamondbacks. This coming school year, Colvin plans to expand the program and offer an independent study class for students who have completed the small business operations and floral design class and wish to continue developing their skills. Second-year students will assume leadership positions in the flower shop and allow the shop to take on more extensive projects, such as weddings and funerals.
"The students get so excited when their arrangements sell," Colvin said. "They get to see the reward for all of their hard work."
Despite the short time Colvin has been leading the program, she has already seen the impact the class has on her students. Several of Colvin's former students have gone on to start their own small businesses, one of whom started a seasonal floral shop. Other students have used their skills to assist family members who work for flower shops and landscaping companies. Many of Colvin's students have been promoted to management positions in their workplaces because of the customer service and business skills they gained from Colvin's class.
CTE classes help students apply their knowledge and skills in real-world settings and help them discover passions and interests that can lead to a career path. At Metro Tech, Colvin is exemplifying the purpose of CTE by giving her students a unique experience that combines practical knowledge with hands-on activities. Thanks to their experiences in the small business operations and floral design class, Colvin's students have the tools they need to thrive in any business operation.
At iCEV, we want to recognize teachers like Jennifer Colvin who work tirelessly to set their students up for educational and career success. If you know a teacher who deserves to be recognized, nominate them for iCEV Teacher of the Month by contacting Kimberly Cantrell at kimberly.cantrell@cevmultimedia.com or (806) 745-8820.
*All photos courtesy of Jennifer Colvin