By Jacelyn Nesmith | Content Development Specialist on October 30, 2020 at 4:15 PM
Each month, we spotlight a teacher who provides students the skills and knowledge to be successful using innovative and outstanding teaching methods. We are excited to recognize Randall Hust as the October iCEV Teacher of the Month.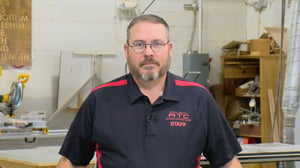 As a third-generation craftsman, Hust uses the skills and tricks his father and grandfather taught him to teach the next generation of craftsmen. As the construction technology teacher at Byron Martin Advanced Technology Center (ATC), Husts' primary classroom goal is to dispute the myth that students must obtain a college degree to be successful.
After spending most of his life working in the construction industry, Hust spent a few years working in ministry, where he began volunteering at the ATC. While working at the church, Hust spent time helping students in the shop at the ATC. Upon the ATC teacher retiring, he wanted Hust to take his place. Hust has spent the last seven years inspiring, teaching and serving as a role model for the next generation of tradesmen at the ATC.
"I really saw it as a chance to make an impact on an upcoming generation," said Hust. "I am able to share the things I learned when I was growing up. It's absolutely the best job in the world because I get to work with students, get to work with tools and pass on things like craftsmanship. It is just a great place to be."
The ATC is solely focused on Career & Technical Education. The center offers a variety of pathways, including culinary, automotive, metal manufacturing, plumbing, nursing, and construction to students who are enrolled at Lubbock ISD. Students select a pathway they wish to pursue and take courses directly related to their career goals. "The center is completely focused on getting these kids connected with industry professionals," said Hust. Local employers are eager to hire ATC graduates, according to Hust, he also noted the center's hire rate is high.
Within the construction program, students learn the skills associated with the construction industry through hands-on activities. Through a partnership with Habitat for Humanity, students construct a three-bedroom, 1,200 square foot house. The home is primarily constructed behind ATC, where students can actively work on the project during the class period. Throughout Construction 1, 2 and 3, students design and build a house from scratch and completely finish it for a family to move into.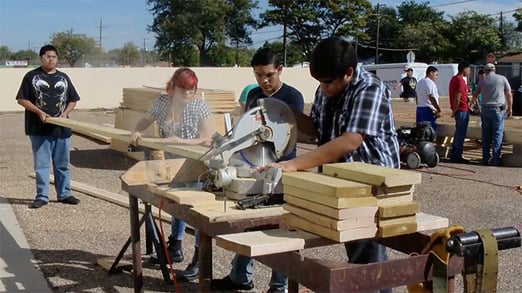 ATC Students Building on a Habitat for Humanity House
Students begin the in-class project learning how to read and interpret a set of plans provided by Habitat for Humanity. In Construction I, they learn the basic elements of building the exterior portion of the house. Students design, build and install the house's interior elements in their second year, including sheetrock and cabinets. Upon learning the carpentry and construction portion of the process, students use their skills to install the house at its permanent location.
The hands-on, real-world application aspects of the construction courses make a lasting impact on ATC students. "We have several students who are going straight from this program right into the industry," said Hust. Both homes and students are built within this program. Students leave ATC with character, a work ethic and the skills to step on the job site from day one. Additionally, students learn to respect the trades again.
Decades ago, being a tradesman was a highly sought-after career. However, with the sudden push for students to attend college after high school, the trades have struggled to find effective employees. In the next ten years, tradesmen will be retiring, and the construction industry is expected to have 296,300 new positions. This is a common problem among Career & Technical Education. To combat the lack of skilled workers, CTE programs are focusing on providing students invaluable career opportunities. In addition to classroom concepts, industry certifications are another solution to the shortage.
Not only does Husts' students develop the skills needed for today's workforce, but students are provided the opportunity to receive industry certifications and to impact their local community. As a teacher, Hust is a prime example of someone who teaching students practical employability skills. His students are prepared to step on to the job site from day one.
Hust is the content collaborator for the current iCEV building construction series. He has played an instrumental role in helping iCEV develop more than 10 lessons. Additionally, Hust is helping iCEV update one of our most highly viewed videos, Basic Shop Safety.
"Hust has been a great collaborator to work with," said Mike Barley, iCEV photographer and videographer. Not only has Hust played an instrumental role in developing iCEV lessons, but he was also one of the presenters at iCEV's virtual conference, CTE Inspired. In his session and in the Q&A session, Hust dives deeper into his program and the lessons he incorporates.
At iCEV, we want to recognize teachers like Randall Hust, who work tirelessly to set their students up for educational and career success. If you know a teacher who deserves to be recognized, nominate them for iCEV Teacher of the Month by contacting Jacelyn Nesmith at jacelyn.nesmith@cevmultimedia.com or (806) 748-8747.