By Jacelyn Nesmith | Content Development Specialist on December 29, 2020 at 1:56 PM
We are thrilled to announce we have teamed up with bulb Digital Portfolios to provide students a digital means to showcase their Career & Technical Education (CTE) knowledge and skills. For the spring 2021 semester, all iCEV users will have access to bulb Digital Portfolios and our brand new pre-made project templates.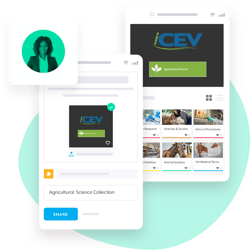 bulb is an online platform where students can easily create content, receive feedback and showcase their best work. Through bulb, teachers can engage students regardless of their learning environment. Additionally, students can take notes, complete assignments and demonstrate their academic growth all in one place.


The concepts learned in CTE courses are often challenging to highlight on paper. A digital portfolio allows CTE students to demonstrate their skills and knowledge through a digital means. Using videos, audio and images, students can showcase their academic and professional growth.


Not only does bulb serve as an academic hub, but the online platform serves as a digital portfolio for students seeking employment. bulb users can showcase their best work on an online platform when applying for college, an internship or a job. Using the private and public settings, students can keep their work private using a sharable link or they can make their profile public for others to view.


This easy-to-use tool gives teachers and students a place to creatively express their skills as they progress over time. Once examples and work are hosted in bulb, they are there forever. Students can take their portfolio with them after high school and can add to their collections until they have established their career and beyond!


To help CTE students express their creativity, bulb is providing all iCEV users (including teachers, students and administrators) free access to their digital portfolios and to more than 50 pre-built iCEV developed project templates. iCEV users will be provided with a "Getting Started with bulb" lesson in their course playlists to introduce bulb and how the digital portfolios work. Additionally, teachers may notice a bulb extension on some project sheets, this details how to reach the template for the project on bulb as well as provides links to more information about bulb.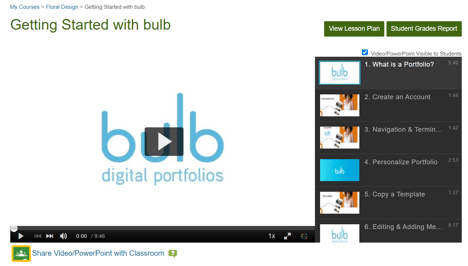 Example of "Getting Started with bulb" lesson
We encourage all iCEV users to sign up and use bulb's Digital Portfolios. If you are interested, simply sign-up using the button below. bulb will create a unique login for you and your classes. In the initial stages, bulb will provide guides and resources to help you get started. Additionally, bulb hosts group webinars focused on learning the ins and outs of the platform. To view an example of bulb's capabilities, view Kelsie's digital portfolio.
In the upcoming weeks, we will be providing tips for using your bulb account. Additionally, we will be sharing examples of projects. Keep an eye on our blog and social media channels to stay up to date. We look forward to seeing your student's creativity using the two platforms!
To learn more about bulb and our partnership, make sure to watch the virtual session from our professional development seminar. If you have any questions or would like to learn more about bulb digital portfolios, please get in touch with bulb by emailing help@bulbapp.com.