By Team iCEV on March 18, 2021 at 11:39 AM
Each month, we spotlight a teacher who has gone above and beyond to provide students with the knowledge and skills they need to be successful through innovative and outstanding teaching methods. We are excited to recognize Brittinie Johnson as the March iCEV Teacher of the Month.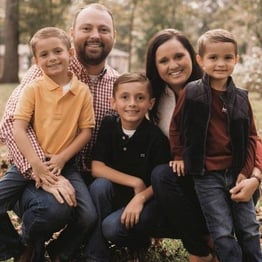 Johnson received her bachelor's degree in nutrition, dietetics and food service from the University of North Florida. Upon graduating, she began working as a substitute teacher and instantly fell in love with education. While she was substituting, the family and consumer science educator at Baker County High School retired, which offered the perfect opportunity for Johnson to fulfill her dream of becoming a teacher.
Motivated by her passion for making a positive impact in her students' lives, Johnson designs her courses to help students learn responsibility, teamwork and industry related skills.
"My inspiration to teach comes from my students," said Johnson. "I love them. I am that teacher who never stops thinking about how to impact their lives in and out of the classroom, whether it is trying to teach them to make better life decisions or teaching values."
Johnson has been teaching family and consumer science (FCS) for nine years. She specifically teaches Culinary 1, 2 and 3. Since she began teaching at Baker County High School, the program has grown immensely. The program currently has 180 active students. Within the program, Johnson strives to lead by example. She says she is quick to jump in alongside her students. "If they are scrubbing the floor, I am right beside them doing the same," said Johnson.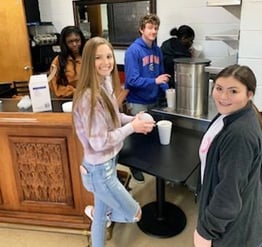 Putting the content learned in Johnson's courses to practice, students run a school-based restaurant, the Cat's Café. Students working in the café are responsible for cooking, cleaning and serving their peers with Johnson's support and oversight. The restaurant serves 150-200 students in their school within an hour and a half. "It is such a huge learning experience and a lot of fun for the students to step up to the plate and take on responsibility," said Johnson. Within the restaurant learning experience, students gain essential workforce skills, including teamwork, responsibility and accountability. Additionally, students learn applicable industry knowledge such as food and kitchen safety.
To ensure the content and curriculum Johnson teaches in her classroom stays relevant, she partners with local business owners to identify what skills and experiences she should be providing students. Within her FCS courses, she offers a food safety industry certification to give her students a competitive head starts in the workforce.
"Industry certification offers such an advantage for my students," said Johnson "Often times if business know students are certified they are hired on the spot. I have even had businesses call for students to come and work for them."
In light of the changes and obstacles the field of education faced in 2020, Johnson overcame obstacles with innovative and creative teaching methods. When students were unable to be in school due to the pandemic, Johnson organized ways for students to cook at home and interact with the curriculum online. Johnson ensured distance learning did not affect student's ability to access meaningful and purposeful content to develop their skills.
"Teenagers have the desire to learn more than course requirements, said Johnson. "They need mentors to help gently guide them through some of life's toughest years."

Johnson exemplifies the mission of CTE by providing students unique learning experiences to instill lifelong learning for successful careers. As a result of Johnson's hard work, her students are better equipped with the skills and knowledge they need to be successful whether they attend college after high school or go straight into the workforce.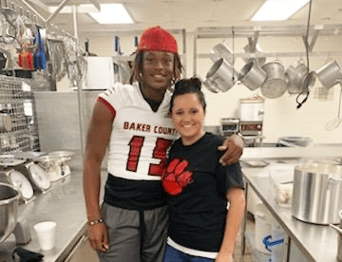 At iCEV, we want to recognize teachers, like Brittinie Johnson, who work tirelessly to set their students up for educational and career success. If you know a teacher who deserves to be recognized, nominate them for iCEV Teacher of the Month by contacting Jacelyn Nesmith at jacelyn.nesmith@cevmultimedia.com.