By Jacelyn Nesmith | Content Development Specialist on April 29, 2021 at 12:02 PM
Last year, more than 9,000 CTE professionals from 16 different countries attended CTE Inspired. This year, we have added more sessions, prizes and networking opportunities for the FREE three-day conference. Whether attendees are educators, employers or an employee, CTE Inspired will help bridge the gap between CTE, higher education and the workforce.
Due to the overwhelming demand for CTE Inspired, we have added a second set of conference dates. iCEV will be hosting CTE Inspired twice, July 27th-29th and August 9th-11th. Attendees can attend one or both conference dates based on their schedules and availability. iCEV understands CTE professionals are busy during the summer and the demand for professional development has increased; therefore, we want to ensure all CTE professionals can attend. Offering the conference twice allows attendees to personalize their conference experience.
CTE Inspired will feature three of the world's most elite keynote speakers: Angela Duckworth, Temple Grandin and Daymond John. Attendees will have two chances to see each keynote speaker, once July 27th-29th and once August 9th-11th. These sessions will not be available for replay during or after the conference. Make sure to add their session to your agenda and tune in for their dynamic keynote addresses.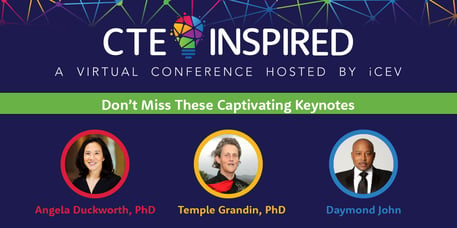 Personalize your Conference Experience
While the keynote sessions won't be available multiple times, the same conference sessions will be streamed both conference dates. CTE professionals can design their own conference experience based on their schedules and availability. Everyone's schedule, interests and goals are unique, that's why we have opened the opportunity for you to customize your conference experience.
Choosing from over 90 conference sessions, attendees can select which sessions they attend, as well as the dates to view the sessions. Led by educational and industry professionals, there are 17 strands highlighting the most valuable and relevant facets of CTE. Join workshops, live Q&A's and roundtable discussions to strengthen the tools and methods used in your classes. Attendees can earn professional development credit and digital badges by attending conference sessions.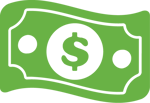 Additionally, attendees can have their shot at winning their share of $75,000 in prizes. Based on conference participation, attendees will earn points within the virtual platform. By engaging in the conference, attendees could win classroom upgrades, a signed book from one of the keynote speakers, iCEV swag and more.
Conference packets will be available for CTE professionals to earn by inviting others to join their conference experience. Upon registering, attendees will receive a confirmation email with a referral code. Share your referral code within your network and have five people register with your code to secure a conference pack. Packets include a t-shirt, decals and other swag items for CTE classrooms.
Based on your summer schedule, join iCEV July 27th-29th or August 9th-11th for the most engaging CTE conference of 2021. Registration is now open for CTE Inspired, make sure to save your spot today.