By Jacelyn Nesmith | Content Development Specialist on October 21, 2020 at 9:29 AM
Pursuing success for each student, principals guide and support their schools in various ways each day. In celebration of National Principals Month, we asked Career and Technical Education (CTE) teachers to nominate their principals to be spotlighted for their accessibility, leadership, compassion and support.
iCEV appreciates the passion and dedication principals showcase in their schools. Shining a light on the following principals is one way we are honoring principals for their dedication to their schools and thanking them for all they do.
Ingrid Bynum | Patrick Henry K-8 School, VA
Principal Ingrid Bynum's leadership never fails to inspire her teachers. Bynum is the fearless leader of Patrick Henry K-8. Over the last nine years, she has transformed the school's culture. Bynum puts the students first and focuses on rigorous education resulting in high student performance. Both her students and teachers admire her hard work and dedication to Patrick Henry. "She motivates me to strive for excellence and be my best professional self," said Laura Moore, career and technical education teacher at Patrick Henry K-8.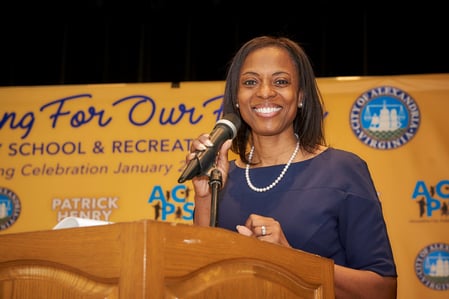 Photo of Ingrid Bynum Provided by Laura Moore
Clark George | Warren County High School, TN
Principal Clark George strives to build leaders by encouraging camaraderie, collaboration and cohesiveness within his high school. "Mr. George wants what is best for all students," said Connie Bell, family and consumer science teacher at Warren County High School. George respects CTE and has high expectations for the program. Bell respects George for the support he has for all CTE courses, including hers. She states his support has had an impact on her life and career. One of the teachers at Warren County High School's favorite moments of George, is when they had shirts made saying "are you serious Clark?"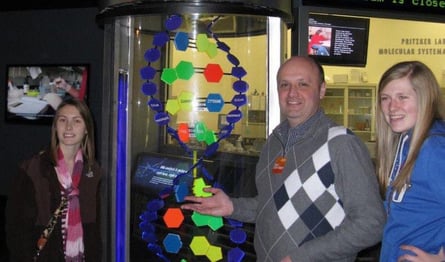 Photo of George Clark provided by Connie Bell
Victor Perry | Orland High School, CA
As a former CTE teacher, Principal Victor Perry supports CTE programs and understands the importance of hands-on learning. As an advocate for the program, he is known show up at their banquets, watch students practice for competitions and even known to be a judge at CTE contests. "Personally, I appreciate his feedback and support of the students," said Anna Canon, agricultural teacher at Orland High School. Not only does he support students, but he also provides opportunities for teachers to grow professionally. Canon states Perry continues to provide for her CTE program and always willing to lend a helping hand. "He has empowered me to be a better teacher," said Canon.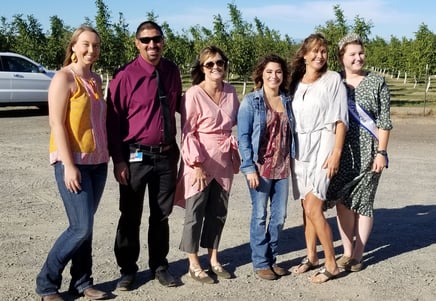 Photo of Victory Perry provided by Anna Canon
Ben Renner | Cleburne High School, TX
When it comes to education and the student experience, Principal Ben Renner knows it's the little things that make a big impact. Renner is always looking for unique ways to engage students. Following an open-door policy, he is visible and available to teachers and students. He is "a man who leads by example," said Robin Gosdin, health science teacher at Cleburne High School. One of Renner's students and teachers' favorite memories of him is watching him ride a skateboard.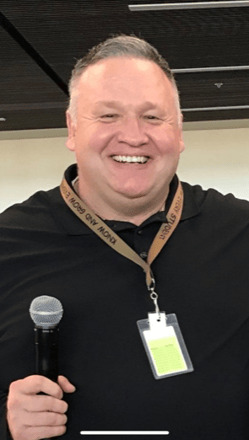 Photo of Ben Renner provided by Robin Gosdin
Margaret "Meg" Turner | Charles D. Owen High School, NC
Approachable, caring and compassionate are three words Meg Turner's staff describe her as. As the principal at Charles D. Owen High School, Turner has high standards for her staff and students. She wants them to be successful and become leaders within the community. While she holds her students and teachers to a high standard, she is the first to celebrate their victories regardless the size. Additionally, she serves as a role-model within her school. "She has been instrumental in pushing me out of my comfort zone and encouraging me to be a strong leader," said Amy White, career development coordinator at Charles D. Owen High School, NC. White describes Turner as someone who consistently keeps a smile on her staffs' faces.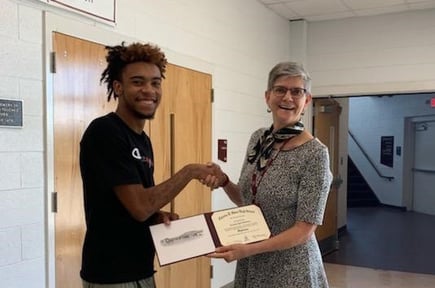 Photo of Meg Turner provided by Amy White

At iCEV, we appreciate the leadership principals provide their schools every day. Their support and encouragement never ceases to amaze us. iCEV wanted to take a moment to recognize principals for their hard work, leadership and preservation in honor of National Principals Month. Principals, thank you for all you do!