By Morgan Dixon | iCEV Education Specialist on July 23, 2019 at 8:49 AM
In order to provide the best possible learning environment, CTE directors and teachers need to be aware of students whose particular needs or situations may categorize them as a member of a special population. According to ACTE's latest Perkins V publication, special populations are defined as one or more of the following:
Individuals with disabilities;
Individuals from economically disadvantaged families, including low-income youth and adults;
Individuals preparing for non-traditional fields;
Single parents, including single pregnant women;
Out-of-workforce individuals;
English learners;
Homeless individuals;
Youth who are in, or have aged out of, the foster care system;
Youth with a parent who--
-is a member of the armed forces and
-is on active duty.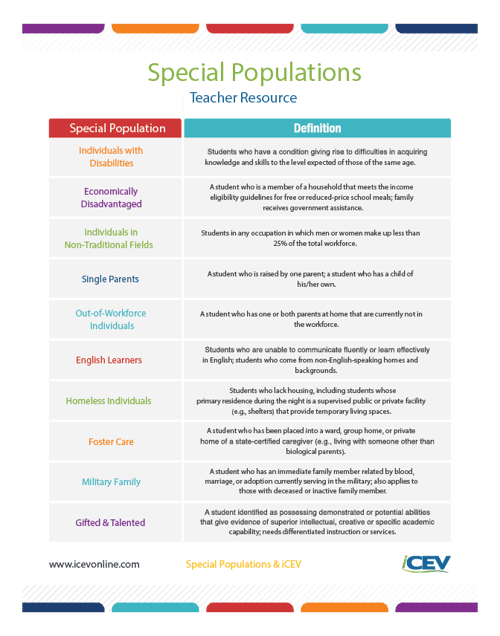 Click here to download the Special Populations Definitions handout.
When teachers see this list, a few questions come to mind.
Am I really going to have such a diverse population in my classroom?
How will I know if a student falls under one or more categories?
How do I adapt my teaching to fit the needs of every student?
For educators to effectively teach students who fall into a special population, they must first understand what the definitions are and needs of each population before any type of planning and development can begin.
Individuals with Disabilities: Cognitive and Physical
Learning disabilities is an extremely broad term. It can apply to a student who has ADD/ADHD, autism, dyslexia, visual or hearing impairments, diabetes or psychiatric disabilities. Most students who have a learning disability come with an individualized education plan (IEP) that states what accommodations or modifications the student needs to succeed.
A vast majority of disabilities are invisible disabilities, meaning it is not immediately apparent a student has cognitive or physical disabilities. Because of this, it is imperative teachers understand what each student needs early in the course. If a child has an IEP with accommodations or modifications, all teachers are required by law to provide the necessary adaptations. It is up to the teacher to understand how to implement the IEP into instruction.
Students with physical disabilities (i.e., mobility impairments, cerebral palsy, arthritis, muscular dystrophy, multiple sclerosis, neck or back injuries) should be taken into consideration in CTE courses. In courses where safety exams must be given to all students, accommodations should be made to allow a student with a physical disability to take the test to the best of his or her ability. Accommodations could include sloped writing tables, flexible seating or recording lessons rather than writing down notes.
Economically Disadvantaged, Single Parents, Out-of-Workforce Individuals & Homeless Individuals
Again, these are fairly broad terms. It is quite possible for single parents or unemployed individuals to also fall under the economically disadvantaged category. Similarly, a student could have two parents at home who both work, but the combined income is not sufficient, and therefore, he or she would still be considered economically disadvantaged. Homeless does not necessarily mean a student is living on the street; rather, this term includes individuals who do not have a stable living environment (i.e., living in hotels, cars, with extended family members, etc.).
What does this mean for the students in your classroom? Unfortunately, there is no easy answer. Some students may come to school hungry because their family couldn't afford to eat dinner the night before. For others, it could be they didn't get their homework finished because they were working a part-time job to help support the family or were watching their siblings while their parents were at work.
As a teacher, creating a safe environment for students whose family and living situations are unstable helps reduce the pressure of life outside school and allows the focus to be on the subject at hand. While your primary purpose is to provide students with learning opportunities, you should also be aware that school is not always the most challenging or important part of a student's life. Taking extra time to help this population work through the course without additional burdens will pay dividends in the long run with each of these students.
Non-traditional Fields
Any occupation in which women or men make up less than 25 percent of the total workforce is considered non-traditional. CTE courses considered non-traditional for female students include livestock production, forensic science and welding. On the other hand, male students typically account for lower percentages in child development and interior design fields.
Encouraging students to enroll in courses considered to be non-traditional for their gender can allow for a greater diversity of perspective in the classroom. Teachers play a crucial role in diminishing gender stereotypes and helping each student find what he or she is passionate about and developing those skills. Students who are exposed to a larger assortment of material and experiences in the school setting are more willing to take part in other diverse and unique opportunities throughout their adult lives.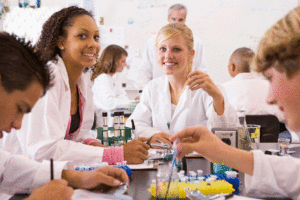 English Language Learners
English Language Learners (ELLs) are students who come from a non-English-speaking home or background. Some states have a higher population of ELLs than others. In 2016, the Condition of Education found 20.2 percent of California students were considered ELLs, while Mississippi ELLs only accounted for 2.7 percent of the total student population.
Teachers don't have to be fluent in multiple languages to teach ELLs. Each state has its own standards for how to accommodate this population. When a teacher has ELLs in their class, it is important to be patient and understanding as you help these students cross this additional barrier.
Foster Care System
Many children in the foster care system have an unstable home life. Several are frequently separated from their families and live in multiple foster homes throughout their time in the system. This can lead to gaps in education, lack of social skills and an inability to properly handle their emotions. Children who "age out" of the system have a less than 3 percent chance to earn a college degree at any point in their life.
A CTE classroom often provides the most relevant lessons and skills for students during their time in high school. As a CTE teacher, you have the unique opportunity to provide students with knowledge and skills that will assist them throughout their future, regardless if they plan to enter the workforce or continue their education. For those students who enter and exit the system often, CTE instruction must be intentional to help close the gaps in learning. You can also provide them with a stable environment, as well as opportunities that can expand their knowledge and confidence.
Military Families
According to Jill Biden, former Second Lady of the United States, children of active-duty service members move an average of six to nine times during their school years. Like the children in foster care, numerous disruptions to their education and environment can leave them with gaps both academically and socially.
Helping children with parents in the military get plugged into groups and clubs will help anchor them to a new school setting. It is also important teachers maintain a consistent classroom management style and format for the sake of students in military families, as well as all special population students. These students have enough uncertainty outside of school and creating an inconsistent classroom can hinder their learning processes.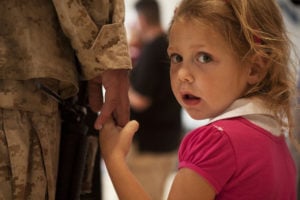 Gifted & Talented
While Gifted & Talented (GT) students are not included under special populations in Perkins V, they also require differentiated instruction in the classroom. Teachers tend to see GT students as high performing and believe they will succeed without much assistance from the teacher. While this may be true in some cases, GT students often struggle to find lessons to challenge them and lack the ability to interact with their peers. There is even a category of "low-achieving" GT students who are academically inclined but lack the drive to challenge themselves.
The best thing a teacher can do for GT students is to push them outside their comfort zone. Give them extension activities and projects that will provide unique challenges and force them to develop their critical thinking skills.
How iCEV Can Help
While iCEV can't solve all the problems that arise when teaching special populations, we are able to make it a little easier. Every course provides a variety of materials like PowerPoint® presentations, video lessons, career interviews, student notes that can be filled in online or printed out, and interactive quizzes to help with differentiated instruction. There are also many options for hands-on activities and projects to incorporate into each lesson.
This is the first post in a seven-part series on teaching special populations. If you enjoyed this post, be sure to follow our blog to receive email notifications when a new post is published. Follow us by clicking the "Follow" button below and filling out your contact information. In the coming weeks, we will be providing a more in-depth analysis of certain special population groups and the ways iCEV materials can assist them in their learning journey.
For questions or help with special populations, feel free to contact Morgan Dixon via email morgan.dixon@cevmultimedia.com or call her at 806.745.8820.
About the Author
Morgan Dixon is the Education Specialist at iCEV. She previously taught 7th English and Reading for six years. Morgan has a passion for special populations and understands how difficult it is to differentiate instruction for diverse classroom populations. It is her goal to make teachers' jobs a little easier and provide resources that benefit both teacher and student.
Special Populations & iCEV Blog Series
Special Populations & iCEV: Non-Traditional Fields
Special Populations & iCEV: Economically Disadvantaged
Special Populations & iCEV: English Language Learners
Special Populations & iCEV: Accommodations, Adaptations & Modifications
Special Populations & iCEV: Individuals with Disabilities
Special Populations & iCEV: Gifted & Talented Students
https://blog.icevonline.com/special-populations-icev-individuals-with-disabilities/