By Morgan Dixon | iCEV Education Specialist on August 12, 2019 at 10:13 AM
To continue the Special Populations & iCEV blog series, this week's post will discuss the needs of English Language Learners (ELLs) and provide an overview of the ways iCEV materials can address those needs. To review the previous posts in this series, click here.
ELLs are defined as students "who come from non-English speaking homes and who are learning English." They are the most rapidly growing special population in U.S. schools. As of 2017, California had 29 percent of all ELLs in the nation, the majority of whom primarily speaking Spanish.
Information overload often threatens to overwhelm ELLs when they first enter the public education system. Between learning content and academic and social language, these students are at a high risk of dropping out due to the inability to keep up. This is especially true for students in high school as it is more difficult to learn a new language with age.
Visual Aids
Implementing visual aids in everyday teaching is crucial for supporting ELLs' learning. The first step to language acquisition is recognition. At this stage, students are nonverbal but can point in response to a question. By creating handouts with pictures and anchor charts to place around the room, the teacher provides opportunities for all students—not just ELLs—to reference the material without the need to communicate with the teacher or other students.
iCEV Connection:
As an example, the floral design course delves into the diverse types of flowers (i.e., line, mass, form and filler) utilized in various floral arrangements and designs. Each flower type has a distinct shape and purpose, and the presentation in the flower identification lesson has a definition of each with examples, along with interactive student notes. Printing out portions from the presentation or the student notes as a resource will allow ELLs to have a reference for their notes. The teacher could take it a step further and create posters to hang around the room to provide quick reminders of the differences between the four flower types.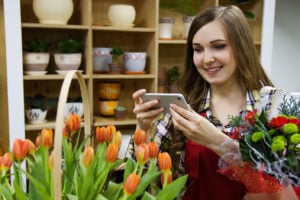 Vocabulary
Every state has a standardized test they require students to take; colleges nation-wide also use SAT and ACT test scores to determine admission and/or scholarships. It is crucial for students to understand and incorporate academic vocabulary into their learning. Yet, for ELLs struggling to grasp social language, such a task is daunting. In reading classes, students can often use context clues to figure out what a word means, but many CTE courses have tools students must be able to identify before having the opportunity to use them (i.e., power tools, sewing machines, computer programs, etc.). Creating a visual aid specifically for vocabulary will allow students to have a daily reminder of each device.
iCEV Connection:
All lessons provided by iCEV have a printable vocabulary handout for the students and most have an interactive version for teachers and students with access to computers, laptops, or tablets. For example, the legal & ethical responsibilities in information technology lesson, found in the digital media course, has a multitude of legal terms students must understand, such as copyright infringement, creative commons and defamation. Such terms can be difficult to grasp for a native English speaker, much less one with limited proficiency in the language. Creating a master list of the needed vocabulary terms to post around the room—along with visual aids—will provide countless opportunities for students to obtain the information.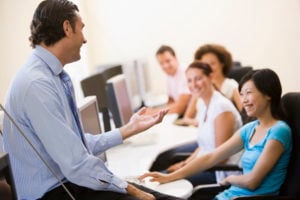 Pre-Teach When Possible
All students come to class with varying background knowledge. With all the other responsibilities, teachers must also assess the background knowledge, requiring teachers to assess the established knowledge of their students, along with their numerous other responsibilities of their students. Do they have the same knowledge of basic vocabulary or will that need to be retaught? ELLs often have vastly different experiences than students who were born and raised in the United States. To help alleviate stress, teachers should determine a student's prior knowledge before introducing a topic in class. For students who have little to no knowledge of the topic, provide an article or video for the student to preview.
iCEV Connection:
Videos are a perfect medium for introducing topics prior to class discussion. iCEV strives to provide videos not only of concepts but of career speakers as well. Additionally, they are all closed-captioned to better support special populations. Workplace etiquette is essential for success in the workforce. Students who take the Career Preparation I course will be exposed to a video explaining proper office behavior. The word "etiquette" requires explanation since it is uncommon; providing access to the short video on workplace etiquette the day before teaching the lesson will give ELLs a chance to stop the video and process the information at their own pace.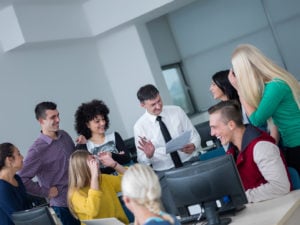 Research Students' Cultures
Every culture has unique expectations for students' behavior in class. Many teachers in the United States, specifically in secondary courses, incorporate whole-class discussions, allowing students to ask and answer questions and collaborate in group settings. For students entering the U.S. public-school system at an early age, they understand that such activities lead to understanding and, for the most part, are requirements. Not every culture represented in U.S. schools are taught the same behaviors. Eye contact, for instance, is widely believed to be respectful and a sign of active listening, but this mindset is detrimental to children raised in countries where eye contact is disrespectful or viewed as challenging authority. By researching the social etiquette of any student raised in an environment different from traditional Western culture, the teacher can avoid miscommunication between themselves, the student and the student's parents. In Goose Creek ISD, Rex Miller has a large population of Spanish speaking students. He will personally translate the content and present it to the students. "It is easy to tell them to just run it through Google Translate. By doing it myself, they know that I care about them enough to put the time in to personalize it." It is a simple gesture, but one that makes a huge impact on his students.
iCEV Connection:
iCEV provides a variety of activities and projects for teachers to utilize during each lesson. Though there are a specific set of directions and guidelines, the teacher has discretion when assigning the projects. Within the small animal management course is a lesson on animals and society where students learn various animal protection acts. The corresponding project suggests having students create a Microsoft® PowerPoint® presentation, presenting it to the class and answering questions. Students from cultures who disapprove of public speaking will struggle with this project. Rather than having each student present to the class, the teacher can assign partners or small groups and have students present only to the assigned students. This technique will still incorporate public speaking standards but on a smaller, more manageable scale. Students will appreciate the teacher's attention to their preferences.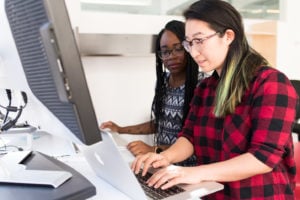 For more information regarding ELLs and teaching special populations, feel free to contact Morgan Dixon via email morgan.dixon@cevmultimedia.com or call her at 806.745.8820.
About the Author
Morgan Dixon is the Education Specialist at iCEV. She previously taught 7th English and Reading for six years. Morgan has a passion for special populations and understands how difficult it is to differentiate instruction for diverse classroom populations. It is her goal to make teachers' jobs a little easier and provide resources that benefit both teachers and students.
Special Populations & iCEV Blog Series
Special Populations & iCEV: Definitions
Special Populations & iCEV: Non-Traditional Fields
Special Populations & iCEV: Economically Disadvantaged
Special Populations & iCEV: Accommodations, Adaptations & Modifications
Special Populations & iCEV: Individuals with Disabilities
Special Populations & iCEV: Gifted & Talented Students