By Morgan Dixon | iCEV Education Specialist on July 29, 2019 at 11:03 AM
To continue the Special Populations & iCEV series, this week's post will focus on teaching students who are interested in non-traditional fields. The first post in the series gave an overview of the definitions for each special populations group as it relates to Career & Technical Education. If you have not read the first blog or would like to review its contents before reading this post, click here.
In regards to CTE, the term non-traditional fields refers to careers in which one gender comprises less than 25 percent of the current workforce. According to the National Alliance for Partnerships in Equity, benefits from non-traditional careers include:
Careers in high demand will have a larger pool of qualified candidates from which to choose
Non-traditional careers offer higher wage potential
Workforce diversity leads to innovation and global economic competitiveness
Choosing a career based on skills and interests leads to higher career satisfaction
Why the Gender Gap?
There is a variety of reasons why males and females are interested in careers historically dominated by their gender, including interest in the subject, a multitude of role models or easy access to training. But what about the people who want a job in a non-traditional field (i.e., females who are skilled at welding or males who have a passion for nursing)?
Many adolescents fear negative reactions from their peers, especially regarding activities typically reserved for the opposite gender. Females can experience harassment from male-dominated classes while males often feel ostracized from other males because they are seen doing a "girl's job."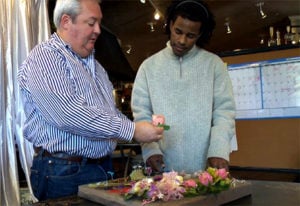 Closing the Gap
Representation is the first step in creating equity amongst CTE courses. Every resource used to teach students should represent every type of student. This can be implemented in pictures, videos and demonstrations.
During professional development every year, teachers are trained to view all students as equal, but equality is often a focus on race rather than gender. It is imperative teachers don't single out the non-traditional students. When students see the teacher behaving in such a manner, it gives the rest of the class permission to behave accordingly.
Perhaps the most important step in closing the gender gap is changing school culture, i.e. teaching children from the earliest possible age all careers are gender-equal and encouraging students to explore a variety of professions. Historically, middle school is when career exploration becomes more of a focus; this is also a time when adolescents are most aware of their peers' opinions. Perkins V now allocates funds to students as young as 5th grade. By displaying a variety of careers and at an early age, students will believe every job is for every child regardless of gender.
Another aspect of Perkins V is a focus on the alignment between CTE programs and the labor market needs of the local community. Establishing relationships with business and reserving classroom time for representatives, especially individuals with non-traditional careers, to speak to students emphasizes the importance of representation. Job shadowing provides the ultimate experience for students seeking more personal insight into a prospective career.
One Step at a Time
Ultimately, changing gender bias is not going to happen in the course of a single year. Eliminating the gender gap in CTE courses is something that will have to happen over time as a new generation is educated without traditional beliefs regarding genders and careers.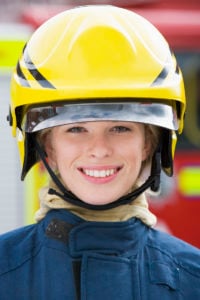 iCEV's Connection
iCEV strives to represent gender equity through the Career Connections element found in every lesson. Interviews with industry professionals create a tangible link to the real world. The interviewees explain their career paths as well as skills needed to succeed in their careers.
Brian Bacon, a fine arts teacher, is a non-traditional Career Connection example found within iCEV's practicum in education and training course. He has a full course load as the assistant marching band direction, choir director, and teaching music appreciation and piano. Bacon chose to teach because his "gift wasn't necessarily playing the piano but instead a passion for passing on knowledge to other people." Bacon is just one example of how male teachers can make a large impact on the education field.
Sally Collins, Associate Chief of the U.S. Forest Service, USDA, is a non-traditional example from the female perspective. Her Career Connection interview is part of iCEV's forestry and woodland ecosystem course. "My job is basically to oversee all [of the programs] and to manage everything from maintaining trails to fighting fires in the national forests." She developed her love of the outdoors camping at national forests with her family. Collins is dedicated to preserving national parks for families across the country. She is an excellent example of how to turn a love for something into a career, regardless of gender stereotypes.
For more information regarding non-traditional fields and teaching special populations, feel free to contact Morgan Dixon via email morgan.dixon@cevmultimedia.com or call her at 806.745.8820.
We hope you enjoyed the second edition of the Special Populations & iCEV blog series. If you liked this post, and would like to stay up-to-date with iCEV's weekly blog, click the Follow button at the bottom of this page to subscribe to our blog.
About the Author
Morgan Dixon is the Education Specialist at iCEV. She previously taught 7th English and Reading for six years. Morgan has a passion for special populations and understands how difficult it is to differentiate instruction for diverse classroom populations. It is her goal to make teachers' jobs a little easier and provide resources that benefit both teachers and students.
Special Populations & iCEV Blog Series
Special Populations & iCEV: Definitions
Special Populations & iCEV: Economically Disadvantaged
Special Populations & iCEV: English Language Learners
Special Populations & iCEV: Accommodations, Adaptations & Modifications
Special Populations & iCEV: Individuals with Disabilities
Special Populations & iCEV: Gifted & Talented Students