By Morgan Dixon | iCEV Education Specialist on December 4, 2019 at 4:31 PM
Classrooms today are filled with students of every ability, creating even more demand for teachers to provide effective, well-designed lessons for each and every student. iCEV understands how difficult it can be to provide accommodations, modifications and extensions on top of other job requirements.
To help ease the challenge of meeting the needs of every student, we have created a resource to help teachers develop strategies to help all students find success in CTE classes. The resource also includes an overview of the different special population groups, as well as describing the differences between accommodations and modifications. The Teaching Strategies for Special Populations resource includes the following strategies:
Customization Strategies
iCEV has a variety of customization options. Special Population students' needs require you to incorporate a variety of accommodations, modifications and extensions into your lessons. Utilize iCEV's vast amount of customization options to get the most out of your subscription and support all your students. Customization strategies include:
Customize a Course
Adjust Course Settings
Modify Lesson Visibility
Utilize Student Licenses
Classroom Management Strategies
Establishing a daily routine is important to effective classroom management. By establishing a routine early, teachers will be able to focus less on classroom management and more on building relationships and content. Strategies include activities to maintain or improve:
Structure & Routine
Participation
Grouping
Differentiation Strategies
Applying differentiation in the classroom often adds work to a teacher's already overloaded plate. Many teachers find teaching different assignments simultaneously challenging, mostly because it creates inequalities in grading. To make differentiation easier, strategies include:
Ability Based Activities
Self-Paced Learning Activities
Customized Assessments and Coursework
Alternatives for Common Assignments
Teachers can easily fall into a routine, asking students to do the same projects or presentations throughout the year. To keep the attention of teenagers, occasionally change up the routine and assign a new activity. Alternatives are provided for:
Writing a Research Paper
Creating a PowerPoint® Presentation
Making a Poster
Vocabulary Strategies
One of the most important things to remember about vocabulary is it cannot be taught in isolation (i.e., reading terms from a list without putting them into context). For struggling students comprehension of vocabulary is key to understanding the concept. This is especially true in CTE courses where students are often introduced to brand new terms. Strategies to teach vocabulary include:
Creating Physical Copies of Vocabulary Terms
Using Interactive Activities
Playing Review Games
Student Notes
Every iCEV lesson provides fill-in-the-blank notes for students to work on as they progress through the content. Different students learn in different ways. ,Not every student is going to benefit from the notes iCEV provides; they need notes with varying requirements. Note-taking strategies include:
Doodle Notes/Sketches
Outline
Cornell Note Taking
Graphic Organizers
Graphic organizers are designed to help students gain a better understanding of the material. They can be used as supplemental material or built into the lesson as teaching material. Many teachers implement graphic organizers in lessons frequently. Options of graphic organizers include:
Four Corner Vocabulary
Vocabulary List
One Page Take Away
Comparison Chart
Cornell Note Taking
Are you interested in learning more about the teaching strategies for special populations?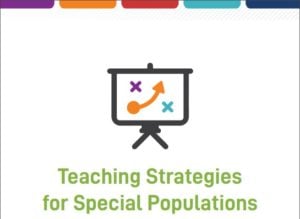 Click here to download the entire Teaching Strategies for Special Populations resource.
Learn how iCEV can help address the specific needs of special population groups in these blog posts:
Special Populations & iCEV: Definitions
Special Populations & iCEV: Non-Traditional Fields
Special Populations & iCEV: Economically Disadvantaged
Special Populations & iCEV: English Language Learners
Special Populations & iCEV: Accommodations, Adaptations & Modifications
Special Populations & iCEV: Individuals with Disabilities
Special Populations & iCEV: Gifted & Talented Students
For more information regarding teaching special populations, contact Morgan Dixon, iCEV Education Specialist, via email at morgan.dixon@cevmultimedia.com or call her at 806.745.8820.