By Jacelyn Nesmith | Content Development Specialist on January 25, 2021 at 8:41 AM
Each month, we spotlight a teacher who provides students the skills and knowledge to be successful using innovative and outstanding teaching methods. We are excited to recognize Tena Walls as the January iCEV Teacher of the Month.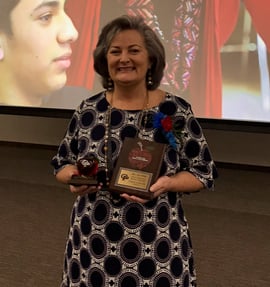 Motivated by her passion for her students and their career success, Walls helps students meet their fullest potential. The students at Gregory-Portland Highs school describe Walls as the teacher who always greets them with a smile, eases their fears with compassion and pushes them to explore various careers.
Before becoming a Career & Technical Education (CTE) teacher, Walls worked in the business industry. However, Walls has dreamt of becoming a teacher since a young age. Twenty-five years ago, Walls followed her dreams and became a math and algebra teacher. Later in her teaching career, a position opened within the CTE department, where she has been teaching business courses for 23 years.
Walls currently teaches Principles of Information Technology, Animation, Digital Media and Business Information Management 2. Walls offers Geospace Information Systems as a dual credit course for her students. In her classes, Walls focuses on hands-on learning and provides students the opportunity to earn industry certifications.
While classroom concepts are important to Walls, she understands celebration and empowerment is crucial for student development. Each year, Walls hosts a banquet for her CTE students. Those who have earned industry certifications are honored on stage and congratulated for their accomplishments. Administration, parents and the community are invited to attend the banquet.
"The students are extremely excited when they earn their certification," said Walls. "Stepping on stage to be recognized provides them a sense of accomplishment."
In addition to Walls hosting a banquet for her students, each year she coordinates a showcase for the all students at Gregory-Portland. During the showcase, students are able to collaborate with various industry professionals and higher education representatives.
"We have about 100 vendors including industry professionals and higher education institutes," said Walls. "The industry conducts experiences for students to see what a day-to-day on the job could look like. Our community and students love the showcase."
For her enthusiasm, compassion and accessibility, Walls was recognized as the 2020 Gregory-Portland ISD Secondary Teacher of the Year and High School Teacher of the Year. Being identified as the teacher of the year is one of the most prestige awards a teacher can receive. "I am so honored to have received this award," said Walls.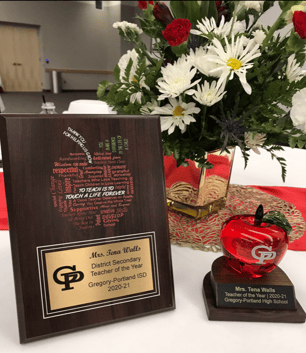 Walls' Teacher of the Year Award
"Tena is a teacher who continually looks at her cup being half full," said Nora Acevedo, iCEV Curriculum Consultant. "She provides the students at Gregory-Portland High School the opportunity to achieve her highest expectations."
CTE is driven by students becoming lifelong learners through academic and hands-on learning experiences. At Gregory-Portland High School, Walls is exemplifying the mission of CTE by providing her students unique learning experiences. Due to Walls dedication and hard work, her students are equipped with the knowledge and skills needed to be successful in the workplace.
At iCEV, we want to recognize teachers like Tena Walls, who work tirelessly to set their students up for educational and career success. If you know a teacher who deserves to be recognized, nominate them for iCEV Teacher of the Month by contacting Jacelyn Nesmith at jacelyn.nesmith@cevmultimedia.com.