By Team iCEV on July 10, 2018 at 11:06 AM
The students at Loyd Star Agriculture Academy are taking their education a step further by combining core classwork with real-world agricultural applications. By merging these classes, students who previously struggled in core classes now see the application of those core subjects. These students are not only improving academically, they are excelling.
Stuart Thomas, 2018 graduate of Loyd Star Agriculture Academy, is no exception to that rule. While attending the academy, Thomas not only improved his GPA while maintaining a full-time job, but also became the first student in the state of Mississippi to earn one of the industry certifications hosted on the iCEV testing platform. As part of his coursework, Thomas completed and passed the Equipment & Engine Training Council (EETC) Principles of Small Engine Technology Certification.
His interest in engines began out of necessity. "My passion for engine technology began when I needed to get a truck operating so that I could have transportation," Thomas said. "During this time, I discovered my love for mechanics."
His interest in the field of mechanics didn't end after high school. Thomas is now on the path to a future in the Marine Corp with a concentration in diesel mechanics. He attributes much of his success to his own spiritual growth, determination and the mentorship of teacher Billy Sumrall.
"Mr. Sumrall always encouraged me and pushed me to succeed and be the best that I could be," Thomas said. "He encouraged me to believe in myself."
Sumrall, Director of Loyd Star Agriculture Academy, said Thomas's passion and interests in small engines propelled his success EETC Principles of Small Engine Technology Certification exam. Sumrall said he has enjoyed watching Thomas' knowledge and abilities strengthen throughout the years.
"It has been a very rewarding experience to work with Stuart and see his self-esteem and pride in his accomplishments that he has worked towards, especially when obstacles at times have been difficult," Sumrall said.
According to Sumrall, it has been a challenge to find industry certifications in agriculture in Mississippi.
"We have been preparing students to achieve, but now being able to add this layer of national certification through EETC adds to the integrity of our program," Sumrall said. "Support from the school and community has been outstanding."
Sumrall and Loyd Star Agriculture Academy are also working towards encouraging other students to earn certifications through the iCEV platform. In fact, 11 students earned certifications in the areas of career preparedness, livestock evaluation and small engine technology during the 2016-2017 school year.
"Our Agriculture Academy is working with all areas of academics in conjunction with students' interests in agriculture," Sumrall said. "No matter the academic or physical ability, our goal is for a student to be successful and achieve their goal for the workforce or career preparation. These certifications add to their success in job and scholarship applications."
When asked for his advice on achieving success, Thomas tells other students the key is not wasting educational opportunities.
"Try as hard as you can and prepare yourself for success, no matter what you may face," Thomas said.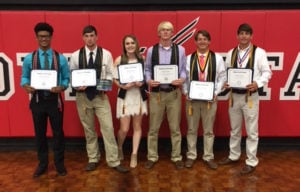 Six seniors from Loyd Star's Agriculture Academy became the first students in the state to graduate with iCEV powered certifications. Pictured are, from left: Shelby Sterling, Stuart Thomas, Hailey Barnett, Kline Foster, Brantley Brister and Blayne Brister.
Certification recipients include:
Hailey Barnett - Express Employment Professionals Career Preparedness Certification
Blayne Brister - Express Employment Professionals Career Preparedness Certification
Brantley Brister - Express Employment Professionals Career Preparedness Certification
Kline Foster - EETC Principles of Small Engine Technology Certification
Tiffany Lea - Express Employment Professionals Career Preparedness Certification
Gabe Netterville - Express Employment Professionals Career Preparedness Certification
Jacob Piazza - Express Employment Professionals Career Preparedness Certification
Shelby Sterling - EETC Principles of Small Engine Technology Certification
Stuart Thomas - EETC Principles of Small Engine Technology Certification
Braedon Walker - Express Employment Professionals Career Preparedness Certification
Walker Williams - NCLCA Principles of Livestock Selection & Evaluation Certification