By Team iCEV on January 14, 2022 at 12:52 PM
Pursuing excellence is no small feat. Excellence is a continuous cycle requiring one to remain focused, overcome adversity and takes commitment, day-in and day-out. Educators are a prime example of individuals who continually pursue excellence within their careers. For many educators, their school day doesn't end with the last bell. Instead, they stay late to prepare for the next day, spend time helping students or coach teams for competitions.
| | |
| --- | --- |
| From iCEV's inception, our team has continually pursued avenues to provide materials, resources and opportunities to students and teachers within the realm of Career & Technical Education (CTE). In our own pursuit of excellence, iCEV's roots have always run deep in CTE with the company's mission steadfastly remaining the same, to create innovative solutions to educate, serve and inspire. | |
As the calendar turns to a new year, iCEV has spent time reflecting on the past and envisioning the future of the company. While exploring where the journey may take us next, it is important to reflect on the rich heritage of iCEV. Join us as we take a trip down memory lane to explore the history of iCEV with stories and historical pictures.
Where it All Began
In the early 1980s, an opportunity came knocking on Gordon W. Davis', Ph.D., door while he was an associate professor of animal science at Texas Tech University. As a former agriscience teacher, Davis was familiar with the needs of high school agricultural teachers. Between teaching agriculture, supervising student projects and training teams for FFA contests, he understood the lack of classroom materials and resources available to teachers.
In 1981, Davis started filming meat judging videos on VHS tapes for his students allowing them to have access to fresh resources without leaving the classroom. Upon noticing the opportunity to teach students on a large scale, Davis began producing videos on agriscience production and officially found CEV in 1984.

Due to the high demand and need for teacher resources and materials, CEV began producing instructional materials for additional CTE subject areas. Currently, CEV offers materials spanning eight CTE subject areas.

| | |
| --- | --- |
| | One of the focus points that has helped CEV be successful over the years is continuing to keep the content and curriculum-relevant with the changes in education. Adapting to shifts in technology, CEV transitioned the VHS library to DVDs in 2008 and then online in 2012. Upon launching the online platform, the company name transitioned to iCEV to encompass the online component. |
iCEV's Development
The iCEV team continues to make advancements, create new content and make improvements to the platform based on teacher feedback. From day one, equipping teachers with the materials and tools needed to help students be successful has been a top priority.
After years of only creating videos, iCEV saw the need to create a more complete curriculum. Therefore, lesson plans and PowerPoints were developed to save teachers time and provide a more comprehensive curriculum solution. Project and activities were created for students to apply their knowledge. Additionally, a course management system, interactive coursework capabilities and automatic grading features were added to the online platform.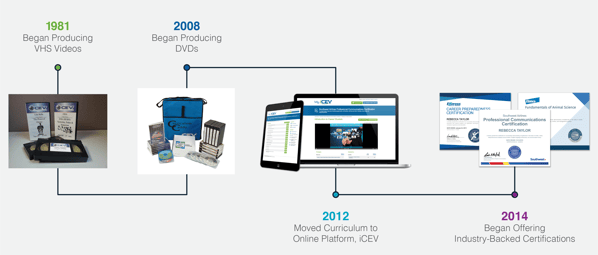 To ensure students are learning real-world concepts, iCEV has also focused on bringing the expert to the classroom. To date, iCEV has teamed up with more than 1,900 industry-recognized specialists, industry professionals and educators nationwide to create quality, accurate and appropriate content. Experts are typically found on camera teaching concepts, providing career advice or simply supplementing the iCEV curriculum with their experiences.
iCEV's passion for incorporating industry professionals and always listening to their users led to one of the company's most important ventures in 2014. In collaboration with companies and trade associations, such as Southwest Airlines, iCEV began offering industry-backed industry certifications on the iCEV Testing Platform.
iCEV Today
While the delivery of curriculum has changed over the years, iCEV continues to collaborate with experts nationwide to create quality, accurate and appropriate content in efforts to retain student interest and facilitate learning. Today, iCEV's robust online platform offers prebuilt, fully customizable courses complete with media-rich lessons and supporting coursework for 16 career cluster areas.
The online library consists of more than 38,000 edited minutes, 75,000 slides and 40,000 instructional materials assets, such as lesson plans, handouts, activities, projects and assessments. The online platform currently encompasses eight subject areas including, agricultural science, trade & industrial education, business & marketing, career exploration, family & consumer science, health science, law enforcement and STEM.
| | |
| --- | --- |
| Currently, 16 industry certifications are available on the iCEV Testing Platform, allowing students to validate their knowledge and skills, showcase career readiness and jump-start their careers. To date, over 50,000 students from three countries, including 47 states across the U.S., have earned an industry certification hosted on the iCEV Testing Platform. | |

To continue offering opportunities and resources to students, iCEV is continuously growing and improving. Last month, iCEV announced a strategic partnership with The Riverside Company. The partnership with Riverside will allow us to focus on improving the iCEV platform, developing and enhancing curriculum areas and providing more resources to CTE programs. As iCEV begins a new era, our team is excited for what the future holds.
As we reflect on the heritage of iCEV, our team is grateful for all the educators, students and industry professionals who have been a part of our journey over the last 38 years. We look forward to serving millions of teachers and students in the coming years. In 2022, educators can look forward to an updated shop safety video series, updated content on the agricultural site, new STEM content and much more!