By Team iCEV on January 27, 2021 at 11:07 AM
Career & Technical Education teachers often use portfolios to assess their student's growth throughout the school year. However, paper portfolios are often stored or discarded at the end of the school year, yet digital portfolios remain available and accessible to students, educators and employers.
To provide teachers a means for their students to demonstrate their growth, iCEV has teamed up with bulb Digital Portfolios for the spring semester. This semester, all iCEV users (including students, teachers and administrators) have free access to bulb and iCEV's brand-new project templates.
bulb is an easy-to-use tool empowering teachers to engage and assess students in-person and remotely. Students can take notes, complete assignments and demonstrate their academic growth on bulb's digital platform. Preview an overview of the iCEV and bulb partnership below or view bulb + iCEV Frequently Asked Questions to learn more.
Portfolio Overview
Digital portfolios enable students to electronically collect their work over time, reflect upon their personal and academic growth and then share with others.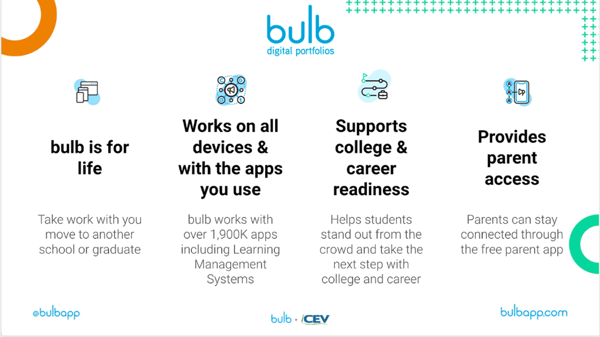 bulb Digital Portfolio's features
Overview of an iCEV Template
One of bulb's most popular features is the template. A template is a bulb page or collection serving as a starting point for a project or assignment. When a student copies a template, it is pre-formatted with guides on what to include for the assignment. Students then add text and media to build a dynamic page and then publish it.
iCEV has created 200 and counting of these bulb templates which are directly associated with projects in the iCEV curriculum for all the subject areas. These templates make it easy for students to document their projects in their bulb portfolio. Explore the iCEV templates on bulb's website.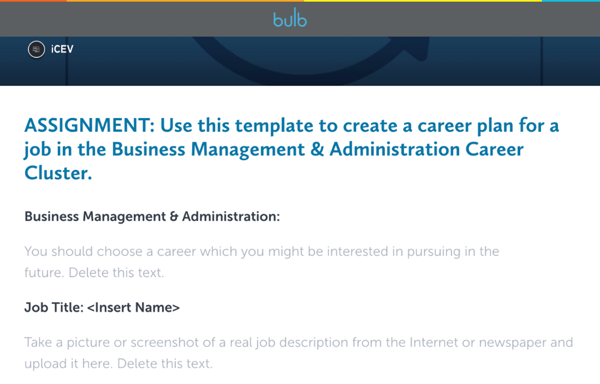 Example of an iCEV template
Key Terms
Profile: Your homepage for your portfolio
Collection: Like a folder- a way to organize your portfolio by themes, topics or classes
Page: A place for content to come to life with text and media
Template: A page or collection that serves as a starting point for a project or assignment. A template can be copied and then edited.
Publish: Set the permissions on who can view your page or collection. These permissions can always be changed.
Grading Tips
1. Have students regularly turn in bulb pages (projects) throughout the semester. Grade the project based on the assignment requirements. Grades will be kept in your gradebook, not in bulb.
2. Use bulb's inline commenting feature to give direct feedback on text or media.
3. At the end of the semester, you can assess the portfolio.

Example of a grading rubric
To learn more about bulb and our partnership, check out the virtual session from our professional development seminar. If you have any questions or would like to learn more about bulb digital portfolios, please get in touch with bulb by emailing help@bulbapp.com.