By Whitney Welch | iCEV Brand Manager on April 29, 2020 at 2:19 PM
We're back! The Writer's Room is here to share what we've been doing these past few weeks.
At iCEV, we are all working from home in order to do our part for social distancing. We are enjoying the rare freedom to microwave fish for lunch and to try out new "business casual" styles. Learning to navigate collaboration on Zoom and finding ways to stay motivated during this difficult time is something everyone is experiencing. Even though the transition to our remote workplace hasn't been easy, our furry coworkers are making it a little easier.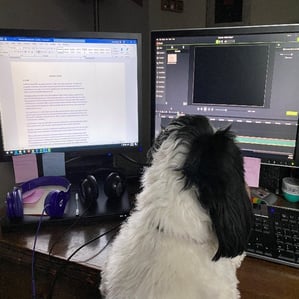 We are happy to find some normalcy in working on new content even though we are not in our normal workspace. There is a great new cybersecurity course we are working on which will be housed on the Business, Marketing, Finance, IT and Media site beginning Fall 2020. We are excited for the course to prepare students for successful futures protecting valuable online tools and information. We know we will rest easier knowing we've helped prepare the next group of cybersecurity experts who can keep our DoorDash data safe from any prying eyes.
We also released a new lesson called Biosecurity & Animal Agriculture. Humans are not the only ones who experience widespread illness. Preventing the spread of disease is essential for livestock operations to ensure animal health and to provide a safe food supply. Visit the our website to learn more about the Biosecurity & Animal Agriculture lesson.
We know we are not the only ones who have had to adjust to new workplace situations. Most teachers around the country have had to figure out how to engage students in online learning settings for the first time! To help, we have compiled a list of resources for distance learning and how to best maximize your iCEV subscription during this unique time. We also have an educational specialist, morgan.dixon@cevmultimedia.com who is available to help you figure out how to scaffold and adapt lessons, activities and projects to best work in your distance learning situation.
If you are using iCEV in new ways for distance learning, we'd love to hear your story! Email the writer's room at brandmanagement@cevmultimedia.com. Be on the lookout next week for some new activities and projects designed specifically for distance education.