By Morgan Dixon | iCEV Education Specialist on November 26, 2019 at 10:28 AM
You may have noticed some new posts on our social media from the iCEV Writer's Room! We want to share what we're working on behind the scenes. Not only will you get to see the content creation process at iCEV, but you will also be able to offer suggestions, share feedback and ask questions about what we're working on. To stay up-to-date and to be part of this conversation, follow us on social media!
In case you missed it, here is a recap of what we've been working on this month.
Making Labs Less Challenging
This month we started off with a big reveal! We have developed a new content type called Lab Challenges. Lab Challenge lessons look different from our typical lessons because they are based around a hands-on activity or experiment. They include video and written instructions for students and teachers, along with student lab reports to facilitate learning. These lessons are an exciting way for us to provide more project-based learning opportunities for students while still providing complete curriculum support for teachers.
Currently, there are three Lab Challenge lessons in the Wildlife, Fisheries & Ecology Management course playlist, but we are working on creating more of these lessons to cover concepts in a range of courses across all subject areas. Look for the announcements of these new lessons coming soon on our social media.
Enabling Hypochondria
For the past year, we've been working on improving the Medical Terminology course by adding new content. One of the new lesson series we've added is the Diseases & Conditions series. These lessons detail many of the unique diseases and conditions affecting each body system. There may have been a fear Legionnaires Disease (a rare severe form of pneumonia) was getting spread through the iCEV office while we were working on Diseases & Conditions: Respiratory System, but we are happy to report it was all in our heads. Not everything has been scary though, we also learned some cool facts like getting to learn more about what colorblindness is and what causes it.
We have already loaded some of these Diseases & Conditions lessons on to the Health Science courses, so be sure to check them out!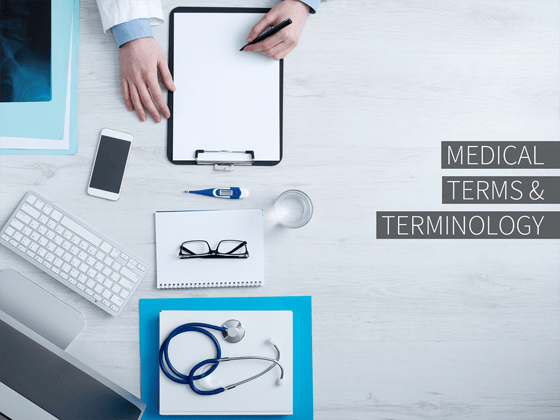 Providing Assistance for Certified Nursing Assistant (CNA) Certification Exams
If looking at the Diseases & Conditions lessons started to make you worried about your health, don't worry. We've also got something to train the individuals who will take care of you. We are in the process of developing a Nursing Skills video series in order to help prepare students for the nursing skills demonstration portion of the CNA certification exam.
These lessons explain the purpose and science behind tested nursing skills, as well as walking through the proper procedure for completing the skills appropriately. Check out this series on the Health Science page in our Certified Nursing Assistant (CNA) Preparation Materials playlist.
Helping Students Decorate
Often times being an iCEV writer means a lot of time spent in front of a computer researching and writing, so we enjoy it when we have opportunities to get out and interact with teachers and students utilizing iCEV. Recently, we traveled to a school in Las Vegas to help train teachers using iCEV to teach Forensic Science. Their students had completed an iCEV blood spatter activity and hung the results out in the hallway. Getting to see students proud of their work was amazing, especially in lessons we helped create. Additionally, the teacher mentioned displaying their work was a great way to help get other students excited about signing up for CTE courses too! Visit our website to learn more about the lessons and activities offered in the Forensic Science course.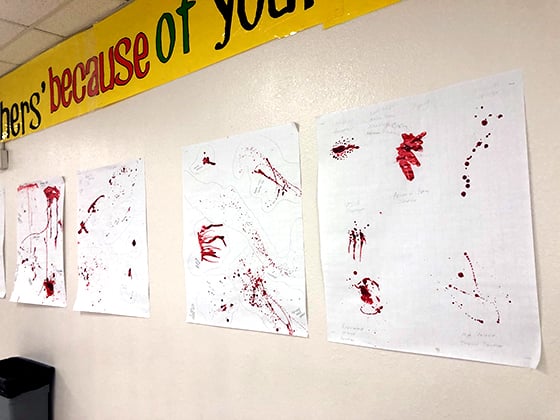 As writers, we love to talk to teachers about our content. We have first-hand knowledge of iCEV content, so we can answer questions or talk through projects and activities, as well as give ideas about how to differentiate for diverse student populations. If you have questions or suggestions about our content, we'd love to hear from you at brandmanagement@cevmultimedia.com. Additionally, we'd love to show off your students using iCEV's activities and projects. If your students make something cool, make sure to share it with us through email or social media.